Last Minute Gifts
Are you in the same boat as many other people right now and still don't have gifts for the holiday season? The good thing is that there is this great thing called Amazon Prime which can ship any gift in two days. Below are some last minute gift ideas that we all need.
    For the Star Wars Lovers in your life, anything related to Baby Yoda, or "Grogu" as some call him, would be a Great gift. Baby Yoda is the cutest thing in 2020. You would have to be crazy to not like Baby Yoda. Recently Baby Yoda toys have been flying off the shelves at stores like Fred Myer.  On Amazon, there are Baby Yoda t-shirts, action figures, mugs and, my personal favorite, the plush toy.  This item is 40 dollars on Amazon.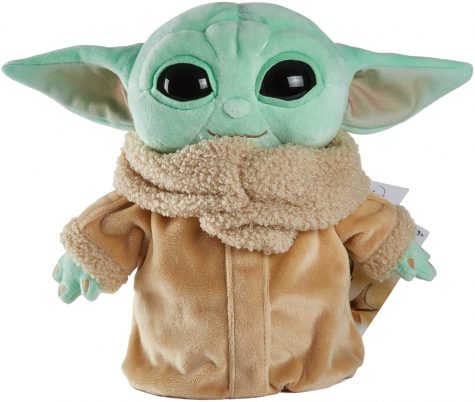 For the Chefs in your life, get them something to help them cook in 2021. This present will even help out because you might get some better food out of it. However you can get spatchulas, knives, or an air fryer, but my favorite gift is the Bicycle Pizza Cutter. The Bicycle Pizza Cutter can help anyone have more fun in the kitchen.  This item is 15 dollars on Amazon.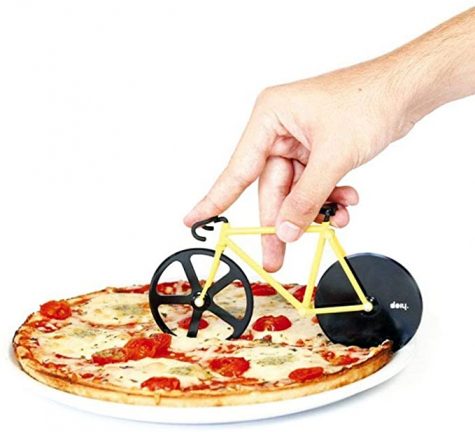 For the music and podcast listeners, get them something to help them jam out in 2021. There are many different headphone options on Amazon, but I think the best gift is the classic AirPods from Apple.  To keep the AirPods Safe, you can get a fun looking case. This item is around 200 dollars on Amazon.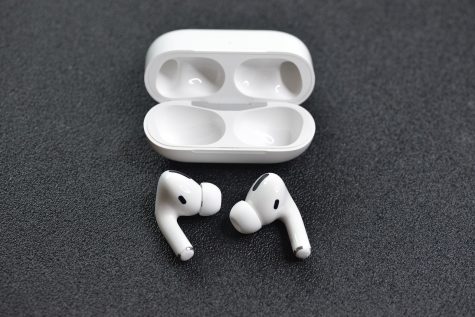 For the gamers in your life, gift them something to make their gaming experience more enjoyable.  On Amazon, there are gifts like blue-light glasses and different headsets, but I think the best gift for the gamer is a new gaming keyboard and mouse. This item is 40 dollars on Amazon.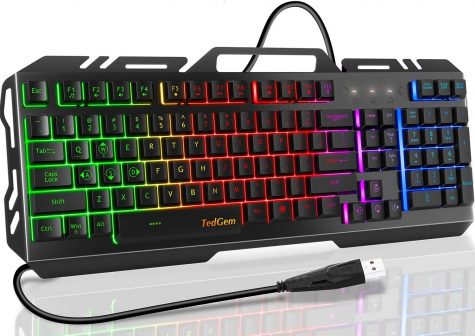 For the sports fans in your life, get them something to help cheer on their team. On Amazon, you can buy any type of merchandise you can think of, but I think the perfect one is a face mask so they can support their team while staying safe. This item is 12 dollars on Amazon.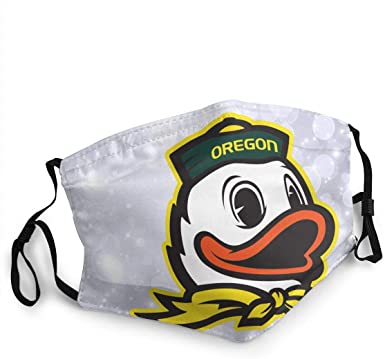 About the Writer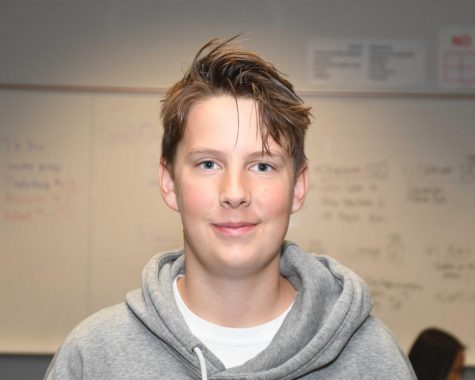 JJ Gray, Staff Writer






JJ Gray is a junior and this will be his second year in  journalism student, he is excited to be in the class and have a great time. In JJ's...
Crusader Comics & Quarantine Struggles: The Scrapbooking Edit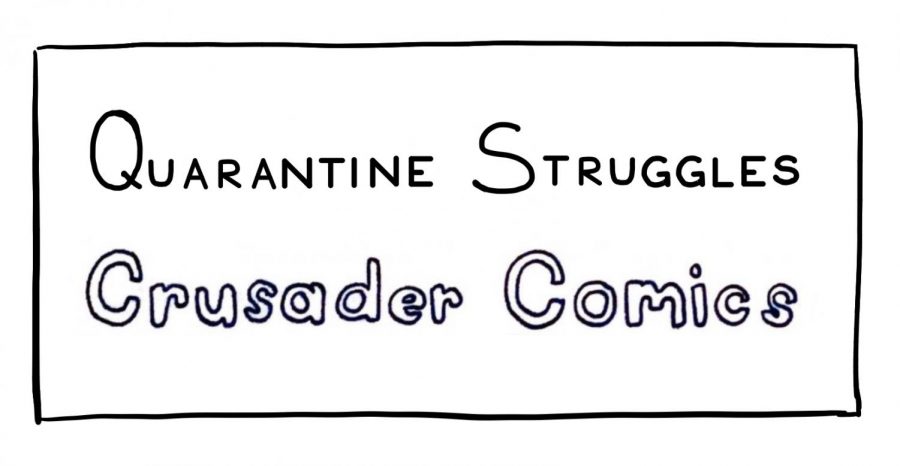 About the Writers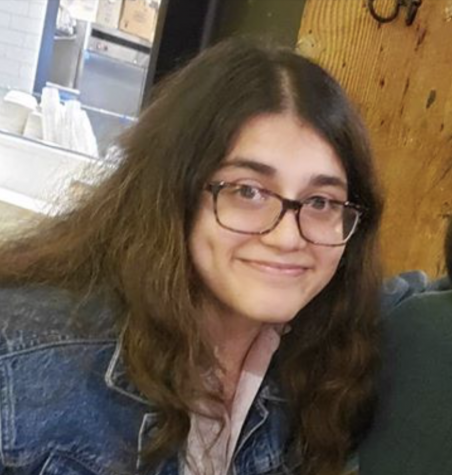 Avni Sharma, Staff Writer
Avni Sharma is a current sophomore at Jesuit High School. She enjoys writing about a wide variety of topics, from music reviews to current politics. Though...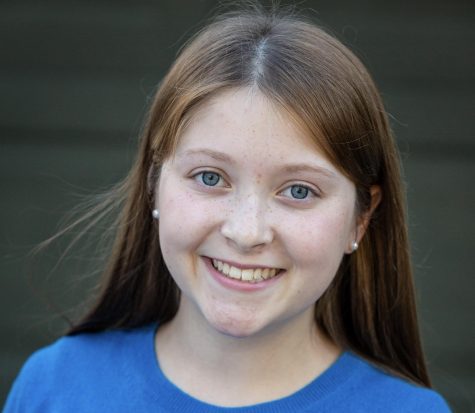 Steele Clevenger, Editor-in-Chief and Creative Director
Sarcastic. Artistic. Enthusiastic. These are three words Steele Clevenger would use to describe herself. A senior at Jesuit High School and a veteran journalism...
Christmas Mass of Anticipation by Lucy Menendez
Dark blue lights fill the Knight Gymnasium as the nicely dressed students climb the bleachers. The Christmas spirit is in the air and the choir welcomes all alumni and parents. The students are gleeful and itching for Christmas break. The Christmas Mass of Anticipation is under way. 
"The Christmas Mass of Anticipation is the last Mass we have as a school community before Christmas," head of Campus Ministry Don Clarke said. "It is an all school Mass, and the greatest attended Mass we have during the year." 
Father Couture has presided at the Christmas Anticipation masses in previous years. 
"It is also a celebration, in which we prepare ourselves, as a community, to celebrate Christmas; to celebrate Jesus' birth and welcoming God's incarnate self into our world," Father Pat Couture said. "The season of Advent is a season of anticipating Jesus's birth, and so as a community, in anticipation of that soon coming Christmas day, we celebrate a Mass together before we depart for the Christmas break. However, we know that all of this looks very different this year." 
Due to COVID-19, Jesuit's Christmas Mass of anticipation will be completely virtual, and JCTV will be streaming the service via YouTube. 
"The mass will be in the Canisius Chapel as the Masses have been this year," Clarke said. 
"There will be a slide show of December happenings at Jesuit through the Food Drive," Clarke said. "There won't be a combination of hundreds of students working to provide so many set up talents, but there will be Christmas songs, Christmas prayers, and a little more than we do usually." 
Sascha Manning, head of Jesuit's art department, was saddened that the elaborate decorations usually hanging from the Knight Gym ceiling would be missing this year. 
"Unfortunately with COVID, there are no handmade decorations planned for this year's mass," Manning said. "It's something we'll all miss, but we look forward to hopefully being a huge part of that for next year's Christmas mass!" 
Though the service will be streamed, it will not hold the same holiday spirit as it had in previous years. 
  "The Christmas Mass of Anticipation is my favorite," Father Couture said. "I love the energy from the students, faculty, staff, parents, and alums who attend. I love the music; I love the decorations; and from the procession into the recession out I am all smiles because it is such a special event.  After every Christmas Mass of Anticipation, I feel humbly blessed that I had the opportunity to celebrate with everyone present, to celebrate with our community." 
"It will still occur if we are physically together or socially distanced," Father Couture said. "It will still occur because when we celebrate together, God will still be present with us."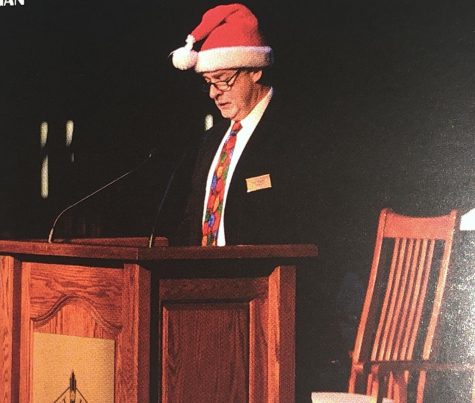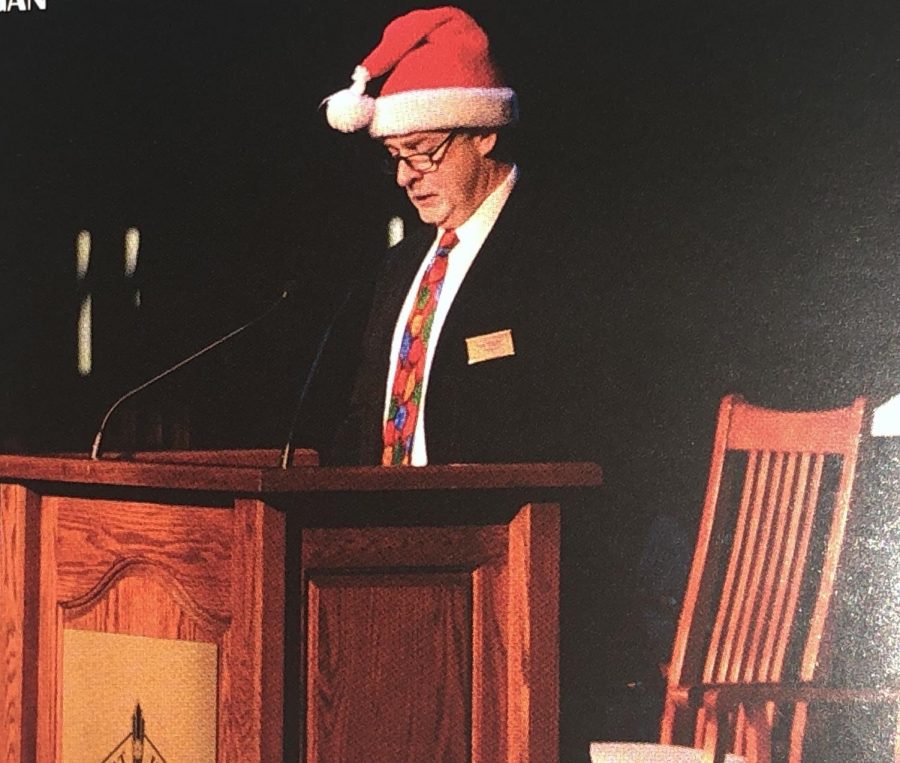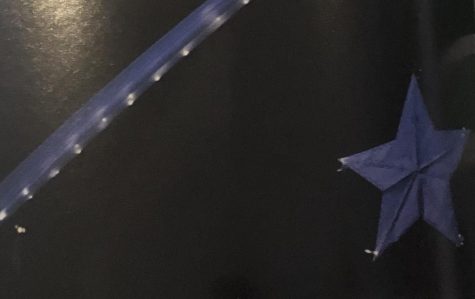 About the Writer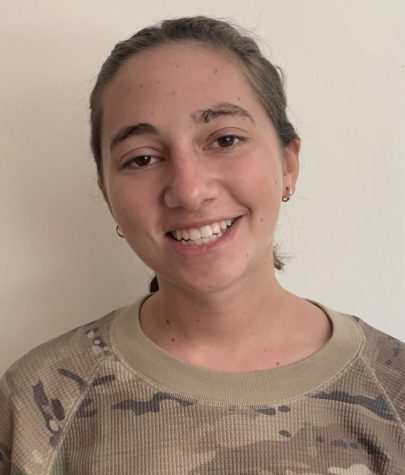 Lucy Menendez, Staff Writer
Lucy Menendez is a senior at Jesuit High School and first time journalism student. Lucy plays basketball at Jesuit and is involved in multiple clubs. Her...
An Interview with Mr. Clarke on Santa Clarke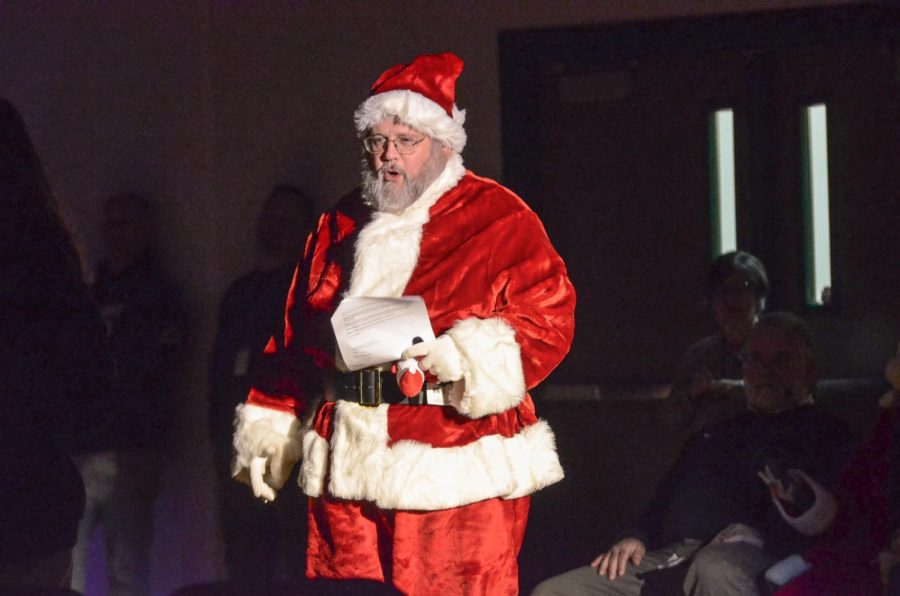 In light of the beginning of the Food Drive and holiday season, I had the opportunity to talk with Campus Minister Don Clarke on Jesuit High School's favorite holiday figure, Santa Clarke. Although the Jesuit student body will not be able to experience Santa Clarke's joyous presence in person through the traditional Food Drive assembly, Clarke speaks on how his close friend, Santa Clarke, will continue spreading the spirit of giving and love this December.
Crespo: What is Santa Clarke's daily routine?
Clarke: Everyday he gets up, comes out his hair and his beard, practices his "ho, ho, ho's" for a while, then he practices carrying a bag around and works on going down chimneys. He checks in with toys being made, and then looks in on different people as they are collecting food for the Food Drive.
Crespo: How is Santa Clarke going to spread the holiday spirit to the student body this December despite not being able to see them in person?
Clarke: I hope we get to see the student body on Dec. 12 when it's the drive-by for the Christmas lights. I think Santa Clarke will be there. I talk to him regularly, everyday. I heard that he was on the video for the Food Drive assembly. He also does a couple of other things. He helps with a couple of different parishes around the area and different groups that need a Santa Claus, so he shows up there as well. His most favorite thing is seeing the students. I think when he broke into the Knight Center [in the assembly video] and there were no students there, that was very, very disheartening for Santa Clarke.
Crespo: What does Santa Clarke love about the holiday season? 
Clarke: [He] loves the generosity of people. I think it just kinda goes in the back of their brain like, "I gotta do the Food Drive stuff, I gotta do the food drive stuff," and then when they finally bring in stuff…they see what the whole community can do. The smiles are usually a little bit deeper than usual when people see what happens when the Food Drive shows up.
Crespo: What are your thoughts on Dr. Fauci's statement that Santa Clarke is immune to the Coronavirus?
Clarke: I think that it is pretty self-evident that he is immune to the coronavirus and therefore can go to all different kinds of places. But as you saw in the video, Santa Clarke has his own specially designed face mask by Mrs. Claus that is candy cane-ish and everything. He won't catch it because he will wear a face mask all the time and after every house, he cleans his hands and makes sure everything is all antiseptic. I appreciate that Dr. Fauci said that you don't have to worry about Santa Clarke this year.
Crespo: What is your favorite type of Christmas cookie?
Clarke: There is a former principal, her name is Mrs. Satterberg, and she heard one time that I like shortbread cookies, so every year, even after she retired, she still makes me shortbread cookies. So it would be Mrs. Satterberg's shortbread cookies that are my favorite Christmas cookies. (Mr. Clarke speaks for Santa Clarke in this regard too, obviously.)
Crespo: What spirited and uplifting message do you want to send to the student body during the holidays?
Clarke: There are so many different things that talk about what the real meaning of Christmas is, and I will say that up at the North pole [Santa Clarke] watches Hallmark Christmas movies. They always talk about Christmas as love, and I think the greatest love that we as humanity have been able to experience, is the gift of God's presence in the world, certainly, through the presence of Jesus Christ, but through the beliefs of so many faithful [people] that want to be good, and that's faiths of all different kinds. I think that is where the meaning of Christmas is. And I think that if we want to have a Christmas that goes a long time, then we figure out exactly what it means to love and show acts of kindness and to cherish one another. When that happens, Christmas is unbelievable.
Crespo: Thank you so much for meeting with me Mr. Clarke. 
Clarke: Thank you for asking.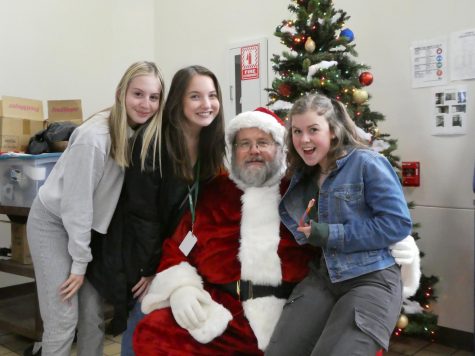 About the Writer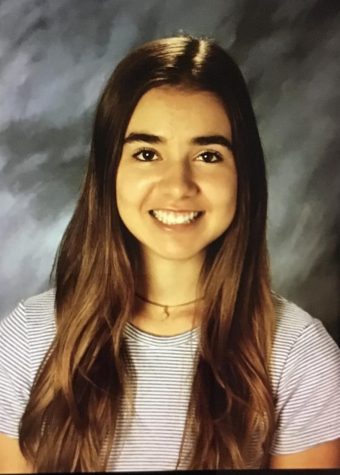 Isabel Crespo, Junior Executive Editor
Isabel Crespo is an editor for the Jesuit Chronicle. She is a Junior at Jesuit High School and is excited to pursue her passion for writing on a deeper...
Sader Lights drive thru December 12th at 6pm
On Saturday December 12th Student Government will be holding "Sader Lights" on campus. Sader Lights is a collection of beautiful lights, similar to the Oregon Zoo's "Zoo Lights," that decorate the courtyard and Mary's Way.
Because of COVID-19 restrictions, Sader Lights will be a little different this year. Instead of lining Mary's Way, lights cover the Tennis Courts, The Flag Pole, Desmet parking lot, and all empty spaces in between. 
After being cleared and sanitized, students set to work decorating the campus. Senior Maiti Teklemariam explained how students were able to come on campus. 
"In Student Government, we have been working hard on this event for weeks to make this event student interactive and have an amazing final product," Teklemariam said. "To align with CDC guidelines, students were only allowed to be on campus for two hours and we could only have a small group. After we found a group of volunteers, we had them come to campus on separate days because of time constraints. After they were screened by a faculty member, they were free to decorate safely amoung their peers."
You will be able to drop off non-perishable foods for the Food Drive, collect your Food Drive shirt (if you qualify for one), get a candy cane from Santa Clarke and enjoy a beautiful path of Christmas lights. 
Thanks to the hard work of all the students that came and helped decorate, the Jesuit campus is beautiful. Come with your family and/or quarantine buddy on Saturday to experience the now drive through Sader Lights. The event starts at 6pm and runs till 8pm. 
Make sure to check them out and come back to Jesuit Chronicle website next week to see a fun video of the setup and event. 
About the Writer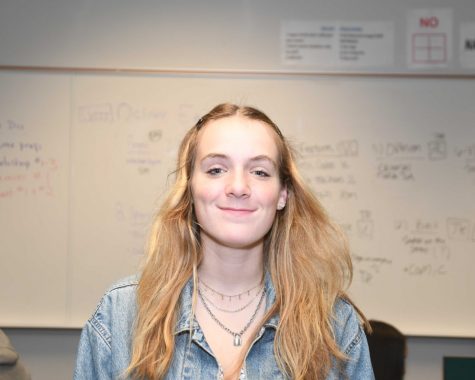 Gwynne Olson, Executive Editor-at-Large and Social Media Executive
Gwynne Olson is a junior staff writer for the Jesuit Chronicle. Gwynne is the youngest of two. Brooke, her older sister, is a recent graduate from the...
Podcast: Seniors Reminisce on Food Drive Memories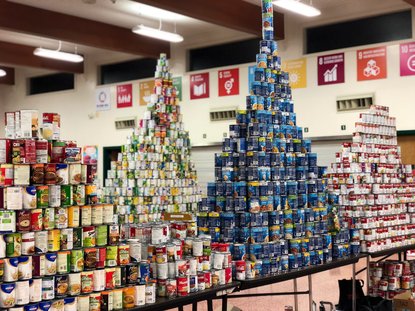 Keep your hopes up, Jesuit! Food Drive is still on for 2020, and there are many people working to make it a success. Listen to Jesuit High School Seniors Lucy Menendez and Reet Chatterjee reminisce about their favorite food drive memories over the past four years. Enjoy!
About the Contributors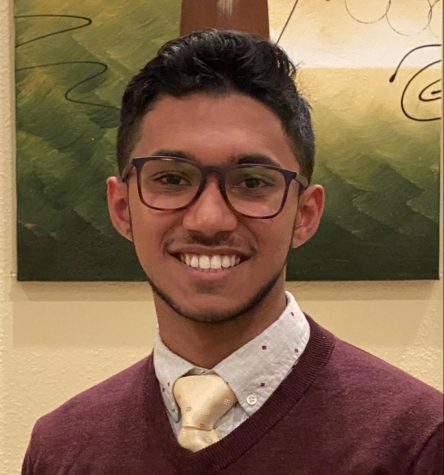 Reet Chatterjee, Staff Writer
A senior at Jesuit High School, Reet Chatterjee strives to better humanity with his writing. His writing focuses include social justice, politics, reform,...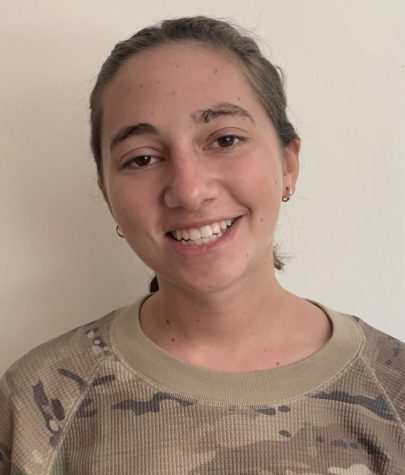 Lucy Menendez, Staff Writer
Lucy Menendez is a senior at Jesuit High School and first time journalism student. Lucy plays basketball at Jesuit and is involved in multiple clubs. Her...
What should "merry Christmas" mean?
December at Jesuit is almost indisputably magical. Between extravagant Christmas-themed Food Drive assemblies featuring "Santa Clarke," candy cane sales, and the Christmas Mass of Anticipation, the holiday season transforms campus in appearance and spirit.
Curiously, however, Jesuit's intensely Christmas-oriented festivities diverge from America's cultural progression towards a more Christmas-neutral holiday season.
As American society becomes more conscious of what it means to uphold inclusivity and diversity, some have questioned whether exclusively Christmas-based marketing and celebrations cause discomfort—or at least an intangible sense of isolation—for members of non-celebrating faith traditions. For the sake of appealing to a larger spectrum of beliefs, many businesses in the customer-service industry, most notably Starbucks, have embraced holiday-neutral slogans and memorabilia. In particular, the phrase "happy holidays" has become a neutral alternative to "merry Christmas."
Like most rhetorical shifts towards inclusivity, "happy holidays" has incited political controversy. In May 2018, President Trump declared, "we're starting to say merry Christmas again… You notice a big difference between now and two or three years ago? It was going in the other direction rapidly, right?" (The Hill).
According to a poll conducted by NPR/PBS in December 2018, among registered Democrats, 42% prefer "merry Christmas" compared to 47% who prefer the neutral greeting. In contrast, among registered Republicans, 86% use "merry Christmas," and only 13% prefer "happy holidays" (NPR).
The fact that Christmas greetings are at the center of a partisan cultural battle raises a critical question: is the argument really about Christmas as a religious holiday? Or do the Americans holding onto "merry Christmas," the politicians posturing over Christmas's apparent decline in holiday marketing, simply cast Christmas as a religiously-detached American tradition?
"We are in a co-opting fight [against Christmas's commercialization]," Campus Ministry Director Mr. Clarke said. "When Black Friday sales are the 'start of Christmas,' you have to wonder whether the political fight is really about Christmas as we at Jesuit celebrate it."
If the alleged "war on Christmas" is less about religion and simply centered on a relatively commodified tradition, then the purported controversy surrounding "happy holidays" appears overblown. Though Christmas is deeply intertwined with many Americans' cultural identity, attempts at avoiding offense with neutral holiday greetings don't necessarily void America's Christmas-steeped holiday aesthetics and Christmas traditions that remain prevalent.
The shift towards "happy holidays" among certain Americans is neither a serious attack against Christian values or American values. Instead, like many cultural inflection points, the dispute over inclusive greetings during the Christmas season is simply another drop in the bucket of a "politically correct" terminology battle between progressives and conservatives, a rallying cry for those concerned with the erasure of what it means to be American via contrived means of inclusivity.
It's concerning that some politically reactionary Americans, including President Trump, would wield "merry Christmas" not as a genuine expression of religion or of holiday spirit, but as a taunting, incendiary response to increased efforts for inclusivity.
Moreover, if the culture war over "merry Christmas" really is a co-opted dispute over Americans' broad sense of identity, not over Christmas's connection to a sacred biblical event, then Jesuit's wholehearted acceptance of Christmas begins to make more sense. Jesuit's status as a Catholic school deeply associates it with Christmas's religious roots.
The Jesuit community, however, doesn't exist in an insulated cultural bubble. Many students are familiar with the battle surrounding the holiday season's two standard greetings—a battle exacerbated by those who employ the more exclusive greeting for political purposes—making it crucial to consider what rationale should prompt "merry Christmas" and other Christmas-oriented traditions.
"When I say 'merry Christmas,' it's an expression of my faith and belief that Christmas is a holy day," Mr. Clarke said. "I certainly don't mean to offend anybody, and I've never been offended by 'happy holidays.'"
America's celebration of Christmas is at its core meant to instill joy. For Christians, Christmas is a celebration of something even greater, a celebration of life, freedom from sin, and justice brought about by the birth of Jesus. Whether as an expression of faith or of general holiday cheer, "merry Christmas" should be used as a means of spreading that joy, not as a weaponized, less-PC alternative to "happy holidays."
For those concerned with whether it's "okay" to still specifically reference Christmas, intent matters much more than specific terminology. If "happy holidays" truly inspires a sense of cultural insecurity for some Americans, that's a sign that arguments over Christmas greetings are a proxy for an ultimately unrelated social conflict.
Regardless of one's manner of celebrating the holiday season, inclusivity is most enhanced by embracing the collective sense of fulfillment that the holiday season is meant to emphasize.
Senior Alyssa Knudsen notes that with the way Jesuit honors Christmas, her Jewish faith doesn't prevent her from appreciating the beauty of Jesuit's Christmas celebration and the unity it inspires.
"I love Christmas at Jesuit. With the lights strung around campus, walking down the halls, Christmas is really beautiful," Knudsen said. "I think that as a Catholic school, it makes sense that we emphasize Christmas, because it's so entrenched in the Catholic ethos and the American ethos."
With the religious reverence associated with its Christmas festivities, Jesuit seems to set an example for how Christmas should be celebrated. "Merry Christmas" at Jesuit doesn't signify an exclusionary verbal weapon meant to minimize other celebrations of faith. Rather, it signifies a broad sense of community, love, and purpose that transcends artificial barriers between those who celebrate Christmas and those who don't.
Senior Janie Koontz also emphasizes that while Jesuit typically centers its holiday season around Christmas, faculty and administration have made concrete efforts to acknowledge other religions and broadcast the voices of students from non-Catholic religions in other capacities, such as brown-bags. 
"I definitely think they're currently making attempts to bridge the gap and not make [kids from other faith traditions] feel as isolated, even though there are very few of us at Jesuit," Koontz said. "Continuing to do that and letting kids who have different faiths speak up and share their experiences and share their faith even when it differs from the main one at Jesuit is a step in the right direction."
About the Contributors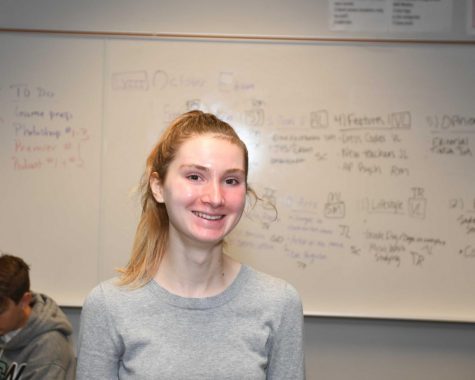 Shawna Muckle, Alumni 2017-2020
Shawna Muckle, 17, is a senior at Jesuit High School. She has been a member of the Chronicle staff for three years in various capacities, and she is currently...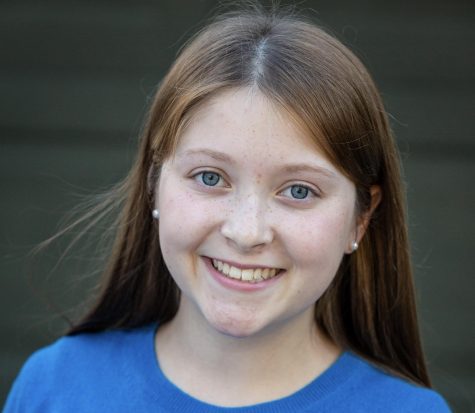 Steele Clevenger, Editor-in-Chief and Creative Director
Sarcastic. Artistic. Enthusiastic. These are three words Steele Clevenger would use to describe herself. A senior at Jesuit High School and a veteran journalism...
Christmas in the 2000s
JJ Gray and James Martini
As the 2010s wrap up, celebrate the holidays the 2000s way with these Christmas classics
How the Grinch Stole Christmas (2000)
While the 1966 animated film is a classic and a new Grinch film was just released last year, Tim Burton's contribution to the Grinch mythos in 2000 remains one of the wildest, funniest, and most underrated Christmas movies of all time. Jim Carrey gave a classic Carrey performance with exaggerated actions, speech, and emotion, and Burton created the movie to compliment the actor's unique style.
Christmas with Weezer (2008)
Weezer, one of the biggest bands of the modern era, released their Christmas EP in 2008. While certainly a shorter set of songs, this EP features some of the same tracks as other famous Christmas albums while retaining Weezer's signature sound of the early 2000s.
The Coolest Kidz Bop Christmas (2007)
No discussion of the 2000s would be complete without mentioning Kidz Bop. The infamous child collective known for creating kid-friendly covers of popular music burst to popularity in the 2000s decade and, of course, made a Christmas album in 2007. Be sure to check this one out for some all-ages fun.
A 2000s Christmas wouldn't be complete without some fitting gift ideas to spread the Christmas spirit
Their catchphrase, "Let it rip!", is one of the most iconic phrases of the 2000s, immediately identifiable by anyone who grew up in the decade. A great way to memorialize the 2000s for someone is gifting them the product that classic line was designed to sell.
A child of the extreme sports craze, pogo sticks came into and fell out of popularity all in the span of a single decade. Everyone has used a pogo stick at some point, and many could likely reminisce on days in their childhood where they were the undisputed champion, so why not get them one now so they can make their claims into legend?
Everyone remembers seeing the commercials for these, even if they couldn't remember what they were called. Not to worry, "Robosapien" is their name and they were born out of the time when everyone still thought that robots would take over the world by 2020. What better time than now to gift one to your once-robot-crazed friend?