Jesuit Drama Presents "Puffs, or Seven Increasingly Eventful Years at a Certain School of Magic and Magic"!
Calling all fans of a certain wizarding world! The Jesuit Drama Program presents "Puffs, or Seven Increasingly Eventful Years at a Certain School of Magic and Magic," a comedic retelling of the Harry Potter series by J.K. Rowling, told entirely from the point of view of the "Puffs."
The cast of Puffs is made up of 11 students, each rehearsing and performing live onstage to a small audience of season subscribers to the Jesuit Drama Program. Other audience members can tune in from home to a livestream of the show. 
"Puffs or Seven Increasingly Eventful Years at a Certain School of Magic and Magic" is told from the perspective of many side characters or spin-offs of certain characters from the Harry Potter franchise, telling a story of underdogs coming together and working to prove that everyone can be a part of something bigger. 
Senior Lilo Pham is a cast member in "Puffs", playing myriad roles such as student Susie Bones, Harry, Colin, Hermioone #2, Ric Gryff, and Myrtle. 
"Puffs is a story about a certain boy wizard in a certain wizarding School of Magic…it's not about the dude with the scar if that's what you're thinking about," Pham said. "It's a story about another boy, a Puff wizard who finds himself frustrated that he's not the guy with the scar."
Puffs, although a comedy with many fictional elements, has many sincere themes that students can apply to their own life.
"I think the most important takeaway in this story is that you don't have to save the world to be a hero," Pham said. "You can just be yourself, and you'll find there are people who love you just the way you are. We're all heroes even if it seems like we're not the main character sometimes."
Junior Karli Lonnquist, a cast member in Puffs, is looking forward to audience interpretation of the show. 
"Puffs will make you ask a lot of questions," Lonnquist said. "Some of [those questions] might be 'who do you consider to be a part of your true family?', or 'how do you want the world to remember you?', and 'what legacy do you want to have?'… something that Puffs has really made me think about is the question, 'who am I really at my core?'" 
Karli wears many hats in this show, metaphorically and physically, playing a variety of quirky characters. 
"I am playing a very, very awkward student, an emotionally turbulent mother, and a whole bunch of crazy teachers," Lonnquist said. "More specifically, I play Hannah, Xavia Jones, Professor McG, First Headmaster, Professor Sproutty, Professor Lanny, Runes Teach, and Ms. Babble. I also play a talking bathtub…arguably, this is quite possibly the best character I've maybe ever played."
Similar to Lonnquist and Pham, senior Danny Zahariev is also playing a variety of roles.
"I play a lot of roles in the show, namely Ernie Mac, Second Headmaster, and A Certain Potions Teacher," Zahariev said. "It's quite a lot of fun to play so many characters because I really have to emphasize, especially because of our masks, many really specific physicalities and vocalizations for each of the characters."
The show is rehearsed in person six days a week for a couple of hours every day. Senior Emma Brown, playing Megan Jones— a Puff who feels a little out of place among her companions—describes how much fun she has rehearsing the show in-person.
"I think just getting to see my friends every day is my favorite part," Brown said. "And I get to do what I love! I wish more people could see it in person, but I have family all over the country and I'm so glad they can see it too."
Performing a production in-person is a rare opportunity during the pandemic and many actors have been rehearsing or performing virtually for the past few months. With this new format, of course, new challenges and opportunities have been presented. 
"I've worked on several different projects during COVID, and all of them have been pre-recorded," Lonnquist said. "So essentially, I haven't performed live in almost an entire year. It's both a little daunting and incredibly exciting! I will say acting while wearing a mask has been a big challenge, but learning how to do so effectively and even working to allow the mask-wearing to enhance my performance has made me a better actor. It will definitely be different performing live for a virtual audience, but I know that I won't be in it alone, and I'm just so happy to be back onstage."
Whether watching from home or in the Marilyn Moyer Theater, you are sure to enjoy Puffs and laugh along with castmates… who are having just as much fun as the audience watching their show. 
"When we first were putting together the scenes, we easily saw the lightheartedness of the show, but now that we are layering sound effects and props, many previously unnoticed jokes have begun to pop," Zahariev said. "Discovering new jokes in rehearsal really makes the whole experience far more enjoyable. What makes this show so great is that you don't have time to dwell on how ridiculous and silly each of those details are. Overall, I'm excited for the audience to discover and react to all of the elements that have really made putting it together such a blast, but to be able to discover them all at the same time." 
For tickets to see "Puffs, or Seven Increasingly Eventful Years at a Certain School of Magic and Magic" on livestream, click here. To become a season subscriber and see Puffs in-person, click here. 
About the Contributor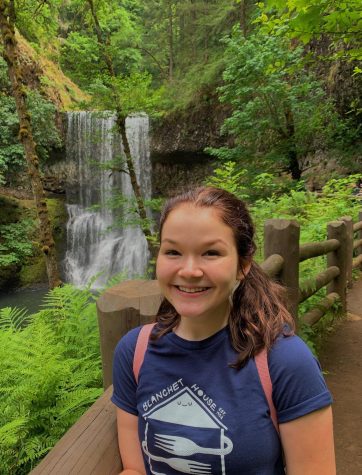 Chase Kerman, Staff Writer
Chase Kerman, a junior at Jesuit High School, is excited to explore Journalism and grow as a writer in her first year taking the class. At Jesuit, Chase is very involved in the drama program, the Jesuit Ambassadors and is also a representative for Student Government. In addition to performing at Jesuit, Chase spends time volunteering as a Student Ambassador at Blanchet House or goofing around at Northwest Children's Theater (her favorite place!) as an actor and member of the Interns NW program. She is very passionate about politics on a national and local level, social justice, and government. Chase hopes to shed some light on more controversial topics at Jesuit, and to inspire her peers to learn about current events because politics are cool!