Spirit Week – Behind the Scenes
On the week of Monday, September 20 to Friday, September 24, 2021, Jesuit students and faculty participated in the first spirit week of the 2021-2022 school year. 
Every day, students dressed up according to previously designated themes to show their school spirit in union with their peers. This fall, students showed off their best pajamas, jerseys, throwback fits, class colors, and finally lots and lots of purple.  
But what is the point of spirit week? What does dressing up in fun clothing add to the Jesuit community?
"I think it's to provide a little bit of fun for students," Activities Director Dr. Exley said. "To get out of the routine of school for a lot of kids. It's also a good chance for us to show spirit as a unified student body." 
Student government starts the organization of each spirit week by brainstorming exciting themes for students and faculty to participate in each day, taking into careful consideration factors such as ideal timing and notable events which could produce a theme.
This fall, class colors day was strategically placed on Thursday to show class spirit and boost participation at the schoolwide assembly.
 Similarly, purple day was on Friday to show support for the Children's Cancer Association (CCA) Walk for Joy.
"The main concern was we wanted to make sure we got lots of participation," said student government official and senior Lexi Hagel. "So for maximum participation we made sure to broadcast the different days on the instagram and sent out emails to the whole school. Lastly as an extra incentive we made sure to give out Dutch bros gift cards to the best dressed and future students on the Jesuit spirit instagram!" 
In addition to bringing students and staff together, spirit week provides students with an opportunity to have fun and express themselves through elaborate, themed outfits.
Spirit week is a great opportunity to highlight the school spirit Jesuit is known for. 
"For me, the Jesuit spirit is getting together for a cause," junior Ethan Suk said.
Unity and community, common values emphasized by members of the Jesuit community, are truly highlighted through student and staff participation in spirit week.
About the Contributor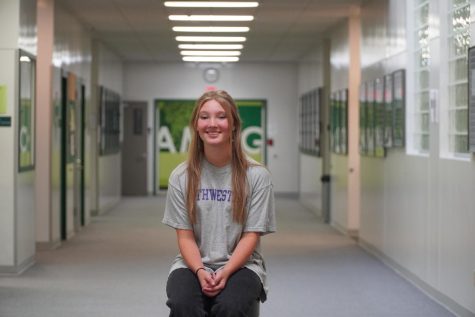 Kelsey Jones, Editor in Chief
A senior at Jesuit High School, Kelsey Jones is a writer and editor for
The Jesuit Chronicle
. She
is excited to pursue her love for writing and news through her involvement in media studies this
year. Although this is her second year participating in Jesuit's media program, Kelsey first
discovered her passion for journalism working as a writer and editor for her middle school's
newspaper,
The Panther Press
. Since then, she has
continued to cultivate her love for writing
through Jesuit's English program as well as writing for fun in her free time. Her writing focuses
on current events and issues, social justice, education, sports, and the arts. Outside of the
classroom, Kelsey is an enthusiastic sports fan as well as an avid reader. She enjoys playing
lacrosse, watching movies, and spending time with her friends, family, and dog.