Midnights by Taylor Swift (Review)
In Taylor Swift's 10th studio album, Midnights, Swift finds herself caught between the idea of herself, her past self, and her future self in an album full of repetitive lyrics and production, interspersed with clever and endearing moments. 
I am a classic Swift fan, and Folklore and Evermore were some of my favorite and most listened to albums, ever, but Swift's ingenuity— once on full display in those two albums— is lost, and traded for repetitive but fun moments in Midnights. 
The album's opener, "Lavender Haze" with a "In the Air Tonight"-esque beat drop begins the album with a high-energy, yet somewhat surface level attempt, with its basic lyrics and overdone production, at discussing love in the age of social media, as she references the pressures society puts on her. 
"Maroon," a classic-Swift storytelling song, tells of love and dancing in New York. This song belongs in 1989, and after Swift's stark and enthralling past two albums, this song feels like an unnecessary "Blank Space" sequel. 
A high point of Midnights, "Anti-Hero" is a vulnerable and poetic song about Swift's self-loathing. The line "I'll stare directly at the sun, but never in the mirror" is a perfect example of Swift's stellar songwriting that often  is overshadowed by Jack Antonoff's flashy production in Midnights. 
Even a Lana Del Rey feature can't save this one. 
"Snow on the Beach" is a simplistic love song, calling love like "snow on the beach,": "weird but … beautiful" which feels a little too literal for Swift. Although individually Del Rey and Swift shine, together they clash and the tone of the song is lost in translation. 
The fifth track "You're on Your Own, Kid" continues the repetition of the same Antonoff-esque flashy and poppy sound. She tells her inner-child to "make the friendship bracelet" and to "take the moment and taste it," both of which, once again, are awfully literal. While this song is a sweet ode to her younger self, it  would have been better suited to an acoustic guitar.  
Referencing the title of the album, "Midnight Rain" begins with a highly autotuned Swift. As The New York Times noted, many of these songs sound crafted for a stadium and a booming bass, and "Midnight Rain" is no different. This song would fit better into Lover or Reputation and  doesn't  add much to Midnights. 
"Question" is another Swift-story song. It's sonically very similar to Reputation—  a fun burst of energy towards the middle of the album. Although this song is nothing new, it's a poppy, and offers some social commentary that fans have come to expect of Swift. High point of the album. 
Swift's blunt and direct imagery is on full display on "Vigilante S—," which feels like "Don't Blame Me" or "I Did Something Bad" from Reputation, which is a relief from the hyper-pop previous songs. She sings "I dress for revenge" which could also be linked to her public feud with the Kardashian-Wests, which began with Ye West snatching Swift's grammy award and declaring it should've gone to Kanye, thus starting a feud on Twitter and through songs and lyrics. 
"Bejeweled" is bland and would fit on Lover with its bright, rainbow, glitter aesthetics. Once again, her literality about her confidence is rather surface level as she says, "When I walk in the room, I can still make the whole place shimmer" which feels unlike Swift's imaginative past couple albums. 
"Labyrinth," a track about the fear of falling in love, is repetitive and although Swift's beautiful vocals help, they can't save the blunt repetition. It's fine. Her employment of the autotune doesn't feel self-aware and doesn't fit with the rest of the song. 
Admittedly, "Karma" is a danceable and energetic song, filled with catchy little quips. Its lyrics are, at points, laughable, which feels intentional as Swift sings  "Karma is my boyfriend" and "karma is a cat." It's a classically newer Swift song, and I can't help but love it, even with its silly lyrics. 
Another high-point on the album, "Sweet Nothing," is an acoustic piano lullaby with minimal production and harmonies that Folklore and Evermore fans have grown accustomed to, therefore making it a beautiful reprieve from previous songs. This song has trumpets, which is fun— try to find them next time you listen! Sweet and smooth,  she sings: "Industry disruptors and soul deconstructors and smooth-talking hucksters out glad-handing each other and the voices that implore, "You should be doing more" and "to you, I can admit that I'm just too soft for all of it."
The final song of the original album, "Mastermind" builds and finishes the album with an exploration of her insecurities,  manufacturing of situations, and her infamously cryptic easter eggs, about future videos, albums, and other media. 
Producer Jack Antonoff's hyper-pop production clashes with Swift's sincerity, giving Midnights a lackluster feel, although there are some hidden gems within Swift's uncompelling 10th album. In her past two albums, her chill production paired with sincere lyrics were a perfect match, making Midnight's departure from the two much more difficult.
This review encompasses only Swift's album without bonus tracks.
About the Contributor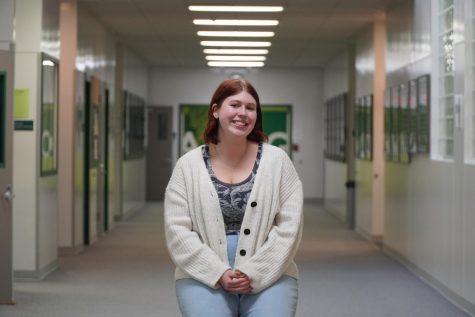 Allie Ruden, Editor in Chief
Allie Ruden is a senior at Jesuit High School and a second-year journalism student. Allie was born in Portland, Oregon, and is an only child. She has a labradoodle named Daisy who loves to nap and sunbathe.  In Allie's free time she loves to read, cook, and listen to all kinds of music. She loves to explore Portland with her friends. Her favorite places to eat in Portland are Bamboo Sushi, JoLa Cafe, and Grassa (highly recommended). Allie enjoys going to the beach, especially Manzanita and Lincoln City, and traveling all around Bend.  She loves writing and her favorite subjects in school are Journalism, English, and Spanish. Allie is interested in writing articles about music, pop culture, and the students and issues of the Jesuit community. She is excited to be able to write about what she is passionate about and delve into issues important to her. Allie is thrilled to be writing for
The Jesuit Chronicle
this year and is hoping to meet some new faces!