PODCAST: The Sader Sound ep 6: Gus Clevenger
On this week's episode of the Sader Sound, Tanisha Chetty and I sat down with staff writer Gus Clevenger to discuss his music taste. 
We began discussing Gus' current favorite songs, starting with "Say Goodbye" by Beck. Beck David Campbell released his first album Mellow Gold in 1994, debuting his interesting folk-pop sound accompanied by heavy sampling from other artists. The hit song "Loser" from Mellow Gold quickly became a radio hit and landed Beck into the mainstream. He has since released 13 more albums and won 3 Grammy awards. "Say Goodbye," Gus' pick for this episode, was released on Beck's 2014 album Morning Phase. Gus said the song "came in at the right time in [his] life." 
Gus' second pick was "Ammonia Avenue," by Alan Parsons Project. Gus said that this song "really covers the whole range of what [he loves] about Alan Parsons." This song hit home for me, since Alan Parsons has been a favorite artist of mine for a while (We have even featured some of his other albums on previous episodes!). Parsons helped produce the last two Beatles' albums and gained the most fame from helping engineer The Dark Side of the Moon by Pink Floyd.
Gus' third and final pick was "It's Over" by Boz Scaggs. After releasing a few albums with the Steve Miller Blues Band, named after his childhood friend and bandmate Steve Miller, Scaggs decided to focus on his personal career. "It's Over" comes from Boz's sixth official solo album Silk Degrees.
We continued our discussion with Gus by asking him a few questions pertaining to his music taste. When asked whether he strictly enjoys older music or finds himself listening to contemporary artists as well, Gus responded, "My biggest influence in music has been my dad. He has always encouraged me to see the whole range of what music is." 
Gus' taste ranges from Mac DeMarco, classic rock, all the way to contemporary indie rock. Alan Parsons Project also remains a favorite of Gus, with Tales of Mystery And Imagination being his favorite album. To hear more of Gus' music taste, check out his Spotify playlist here.
Be sure to catch more Sader Sound episodes on Spotify if you enjoyed this interview. See you in the next episode!
About the Writers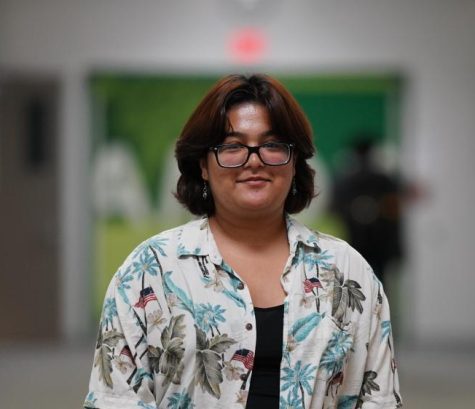 Tanisha Chetty, Staff Writer & Podcast Producer
Tanisha Chetty, a senior at Jesuit High School and first-year contributor to the Jesuit Chronicle, is
excited to branch out and experiment with new journalism skills. While she doesn't have any formal
journalism experience, she enjoys critically engaging with the community around her, and she holds a lot
of love and excitement in her heart. Tanisha is a student leader of both ethics bowl and book club and
participates in Jesuit's Chamber Choir. She has a dog named Jupiter. Her go-to coffee shop order is an
iced chai latte, but her incredibly charming and humorous personality rarely needs the caffeine
supplement. In addition to writing, Tanisha loves all things music, movies, and books. She hopes to write
articles about interesting media, social issues, and events within the Jesuit community.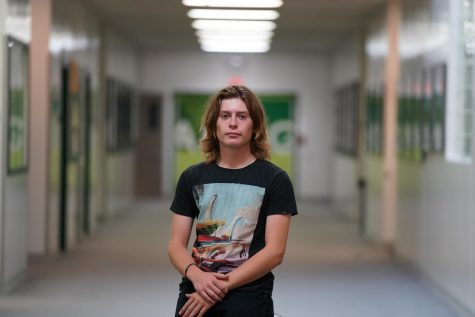 Nolan Petrin, Staff Writer & Photographer
His name is Nolan Petrin, he is an amature photographer who is excited to work with others in
creating high quality stories. His aspiration for photography only started last year, enrolling in Mr.
Falkner's photography class. His passion for photography grew as he began integrating it into
his own hobbies. Stories he wants to write are news stories around the school and getting
interviews from staff on policy changes. He is also interested in following niche clubs and
sporting events that many of the Jesuit community may not know about. His favorite
photoshoots have been on the water at sailing regattas, and at the beach while surfing. Sailing
photography has become a growing hobby of his, taking out boats single-handedly on the
Columbia to get photos of sailboats racing on a course. Nolan hopes to make an impact through
his voice and pictures he produces, creating emotion off of excitement.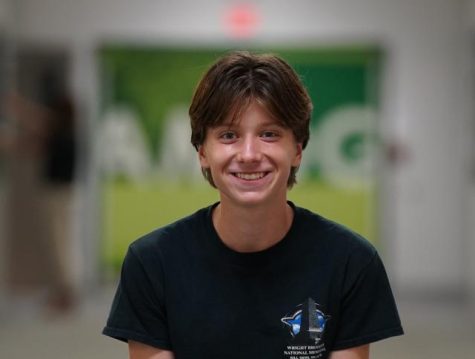 Gus Clevenger, Staff Writer
The power of storytelling is used to inspire and make people think more deeply and thoughtfully
about what was presented to them. To Gus Clevenger, a senior at Jesuit high school,
storytelling is at the forefront of his life, through seeking out new adventures and finding creative
ways to describe the world around him. As a young kid, Gus was surrounded with art and
writing and never saw himself doing much of anything else. Through listening to his dad make
up crazy stories about made up characters, to walking around OHSU and sitting through
interviews of dental students with his mom, storytelling was always there. This will be Gus's
second year as an editor and writer for the Jesuit Chronicle. In his first year as a Journalism
Student, he learned the fundamentals of Indesign as well as explored topics ranging from the
Jesuit administrative policies to food writing. Gus enjoys writing opinions , sharing different
perspectives, and connecting people through stories. He hopes to continue discovering what he
loves to write about as well as continue to put passion into his work to connect the Jesuit
community through stories and discussion. In his free time, Gus enjoys running, cooking,
drawing, going on long walks, and being with family.