Food Insecurity Amidst a Pandemic: A Crisis Within a Crisis
With the economic turmoil and millions of job losses due to the coronavirus pandemic, a record number of Americans face food insecurity this holiday season. The pandemic has exacerbated issues already present in America's food insecurity crisis, significantly affecting those already experiencing financial hardship. 
According to a report by the Feeding America Organization, about 37 million (10.1%) Americans faced food insecurity pre-pandemic. However, a recent update to that report found the number jump to a staggering 50 million (15.6%) food-insecure Americans. The South is the hardest hit region, with Mississippi, Arkansas, and Alabama projected to have the country's highest food insecurity rates. 
Andrea Casey, Director of the Arrupe Center for Justice at Jesuit High School, contends that the pandemic's sudden grasp and uncertainty are to blame for the spike in food insecurity.
"A lot of new families are experiencing food insecurity because of sudden loss of job, business instability, etc.," Casey said. "A lot of progress to fight food insecurity has been reverted in the past nine months."
Furthermore, the pandemic has exacerbated issues for those already vulnerable to food insecurity, Casey said. People working a minimum wage job, facing reduced hours, or struggling to make ends meet are now facing even more obstacles to gain food stability. 
Casey has witnessed the pandemic's effects on the food crisis as one of the coordinators for Jesuit Portland's annual Food Drive. Although there are multiple logistic challenges of organizing a food drive amidst a pandemic, Casey has worked tirelessly to make a food drive possible. In total, Casey estimates that Jesuit Portland will support over 300 local families with grocery store gift cards (and 88 of those families will also receive gifts) and hundreds more with non-perishable foods going to local food pantries. 
Efforts such as the Jesuit Food Drive and other local initiatives are especially needed in Portland, as the city battles an alarmingly high food insecurity rate. A report from the Oregon Food Bank found that over 550,000 (14.6%) Oregonians face food insecurity, with the majority stemming from the greater Portland area. 
With such staggering local and national numbers, Casey stresses the need to support those most vulnerable in our communities. Casey is also a firm believer in community action, reminding us that all support—big or small—has a tangible impact.
"I encourage people to ask 'what can I do?'" Casey said. "Especially during a pandemic, people can get hung up on what they can't do. Instead, think about what is a reasonable ask. Is there something you can give up to support others during these difficult times?"
About the Writer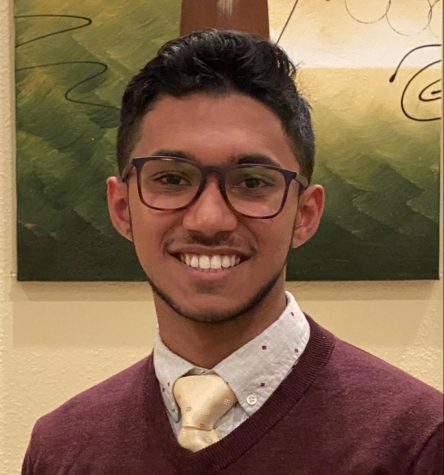 Reet Chatterjee, Staff Writer
A senior at Jesuit High School, Reet Chatterjee strives to better humanity with his writing. His writing focuses include social justice, politics, reform,...
Sader Lights drive thru December 12th at 6pm
On Saturday December 12th Student Government will be holding "Sader Lights" on campus. Sader Lights is a collection of beautiful lights, similar to the Oregon Zoo's "Zoo Lights," that decorate the courtyard and Mary's Way.
Because of COVID-19 restrictions, Sader Lights will be a little different this year. Instead of lining Mary's Way, lights cover the Tennis Courts, The Flag Pole, Desmet parking lot, and all empty spaces in between. 
After being cleared and sanitized, students set to work decorating the campus. Senior Maiti Teklemariam explained how students were able to come on campus. 
"In Student Government, we have been working hard on this event for weeks to make this event student interactive and have an amazing final product," Teklemariam said. "To align with CDC guidelines, students were only allowed to be on campus for two hours and we could only have a small group. After we found a group of volunteers, we had them come to campus on separate days because of time constraints. After they were screened by a faculty member, they were free to decorate safely amoung their peers."
You will be able to drop off non-perishable foods for the Food Drive, collect your Food Drive shirt (if you qualify for one), get a candy cane from Santa Clarke and enjoy a beautiful path of Christmas lights. 
Thanks to the hard work of all the students that came and helped decorate, the Jesuit campus is beautiful. Come with your family and/or quarantine buddy on Saturday to experience the now drive through Sader Lights. The event starts at 6pm and runs till 8pm. 
Make sure to check them out and come back to Jesuit Chronicle website next week to see a fun video of the setup and event. 
About the Writer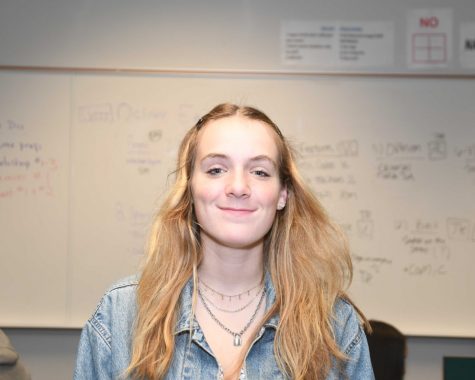 Gwynne Olson, Executive Editor-at-Large and Social Media Executive
Gwynne Olson is a junior staff writer for the Jesuit Chronicle. Gwynne is the youngest of two. Brooke, her older sister, is a recent graduate from the...
Podcast: Seniors Reminisce on Food Drive Memories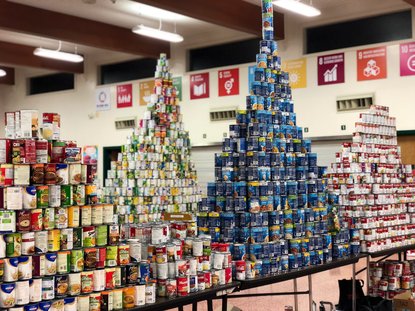 Keep your hopes up, Jesuit! Food Drive is still on for 2020, and there are many people working to make it a success. Listen to Jesuit High School Seniors Lucy Menendez and Reet Chatterjee reminisce about their favorite food drive memories over the past four years. Enjoy!
About the Contributors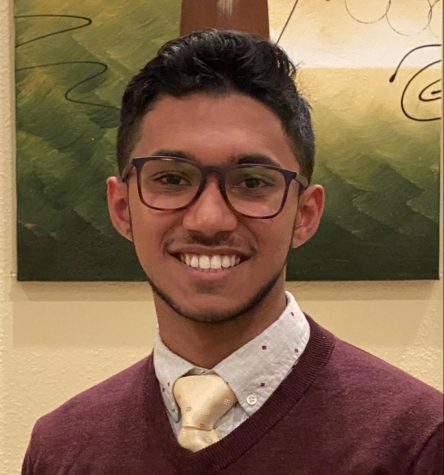 Reet Chatterjee, Staff Writer
A senior at Jesuit High School, Reet Chatterjee strives to better humanity with his writing. His writing focuses include social justice, politics, reform,...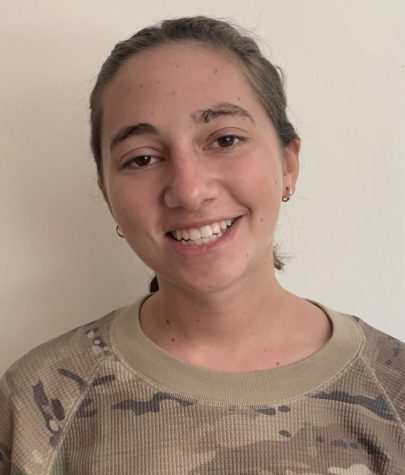 Lucy Menendez, Staff Writer
Lucy Menendez is a senior at Jesuit High School and first time journalism student. Lucy plays basketball at Jesuit and is involved in multiple clubs. Her...
Everything You Need To Know About Jesuit's 2020 Christmas Food Drive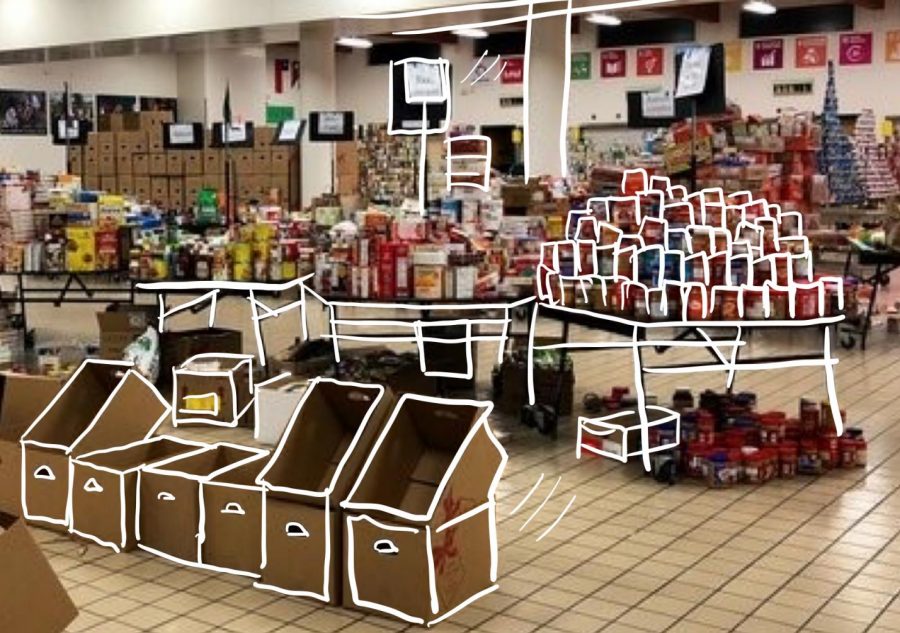 It's nearing that time of year. 
The season of hot cocoa, Santa Claus themed greeting cards, and the "Home Alone" Series. With only a few weeks left until December, the 12 month wait for jingle bells and candy canes is almost over. But to Jesuit students, nothing screams Christmas more than the annual Food Drive. 
In the past, the annual Food Drive has been an opportunity for students to gather and organize the cans, boxes, and cases of non-perishable food in a joyous and welcoming environment. Mariah Carey's "All I Want For Christmas" blasts on the speakers as students shuffle around the cafeteria, laughing as they sort food with their friends. 
"I remember everyone would carry bags of cans and have this mass exodus from their classes," junior Charlene de La Paz said. "It was really fun." 
It was the perfect way to celebrate Christmas and relax after a long semester, while also helping those in need. Even now with COVID-19 limiting certain school related events, students look forward to participating in the 2020 Food Drive. 
"I'm excited that we can continue the tradition at Jesuit in a way that will keep everyone safe and healthy," Director of Arrupe Center for Justice Andrea Casey said. "This year, we are still committed to those goals." 
So yes, the Food Drive is still happening. That being said, the format will be significantly different from previous years. According to Ms. Casey, Jesuit plans to focus their efforts in three areas:
Purchasing grocery gift cards through Jesuit's website or Venmo. Jesuit's partners have requested to not give food boxes this year, but to give gift cards and raise money instead. Jesuit's goal is to raise at least 250 $50 gift cards.  

Dropping non-perishable food off at campus. Students will be given a specific day to make your donation, to be as safe and socially distanced as possible. The food donated will go to St. Andrew and St. Cecelia Catholic Church Pantries. By the end of the Food Drive, the pantries should be stocked for many months to come. 

Sponsoring specific families with grocery gift cards and presents. Students will be able to make a group with friends or family to sponsor a family. The group will be responsible for calling the family to find out what gifts their sponsored family would like, and will purchase the desired gifts along with wrapping supplies. Each person in the group will contribute $25 per person. It is important that the gift should not be wrapped, since the parents will wrap the presents themselves. Delivery will happen on Dec. 17th, between 3 p.m. and 6 p.m.
Other significant changes have also been made. Instead of having a single day to compile and deliver food, the 2020 Food Drive will happen throughout Dec. 2nd-17th. 
Though the Food Drive seems very different this year, Jesuit strives to help families battling with food insecurity while giving an opportunity for students to come together and bond in the name of Christmas. 
"Jesuit is handling the food drive very well this year," junior Keya Pandya said. "Although it cannot be the same as it was in previous years, Jesuit is doing a great job of keeping the occasion joyous and exciting."
About the Writer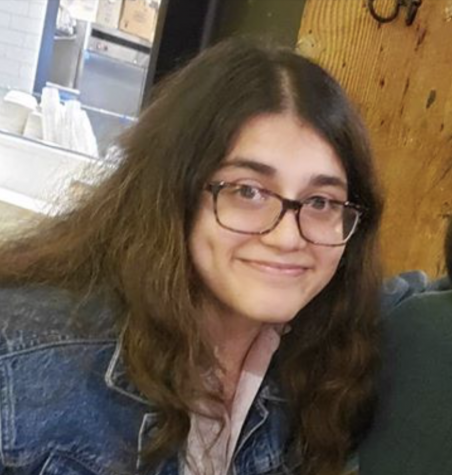 Avni Sharma, Staff Writer
Avni Sharma is a current sophomore at Jesuit High School. She enjoys writing about a wide variety of topics, from music reviews to current politics. Though...
The Legend of Santa Clarke
THE LEGEND OF SANTA CLARKE
For the past five years, Santa Clarke has been a major component of the Jesuit Christmas celebration. But a very small group of people actually know who he is and what his origins are. Students were asked what they think about the origins of Santa Clarke.
"[I believe that]Santa Clarke manifested himself.  He transcends all things secular and rules all things divine.  He is the eternal breath of Christmas and shall continue to be as he patrols the chilly winter skies in his sleigh.  No one man truly understands the power that Santa Clarke possesses, for no one man can truly comprehend it.  To harness such power would mean the end of all things, which is the sole reason why Santa Clarke has never chosen a successor.  He needs no successor, and he has no predecessor.  He is time and power, personified by America's mass consumerism and vivaciously aggressive attitude towards Christmas.  In other words, you'd better watch out…"
-senior Jonathan Ulrich.
"I imagine that Santa Clarke arrived a long time ago from deep underground and shows up again every Christmas season to do two things, spread cheer and acknowledge 8th grade shadows"
-senior River Flamoe.
Santa Clarke was first asked to appear at the 2014 Food Drive Assembly by Jesuit's very own Campus Minister, Don Clarke, who shares a last name with the famed holiday hero. Santa Clarke is contacted every year around the beginning of December by Mr. Clarke to come to Jesuit once again to jump-start the Christmas spirit. 
He doesn't arrive to Jesuit in costume though–he had a custom suit provided by the Campus Ministry office to wear during the Food Drive and the corresponding assembly.
In a statement given by Santa Clarke, he says that he has lots of fun every year playing the role at Jesuit. In the first year of his appearance the hashtag #santaclarke was created in his honor.
Within more recent years, more activity has presented itself to Santa Clarke, with him being invited to play the part of Santa in Jesuit's 2017 play, Elf Jr., starring juniors Krish Adyta and Alannah Connolly. 
When asked on his feelings of the pressure of becoming Santa Clarke, he answered that he, "has started to feel more nervous now that more and more high school students are starting to question his reality".
He originally found it tough when he was asked to sit and listen to smaller children. But he found that the children look to him with such honesty and joy in their eyes when they tell him what their wishes are for Christmas presents.
Although he is not the one and true Santa Clause, Santa Clarke finds it profound that the children tell him what presents they want, and he does his best to deliver the word of each child's wishes to the true Santa in the North Pole.
He shared exclusive information with the Jesuit Chronicle about the most asked for Christmas presents in which he stated, "collectible bracelets, iPhone X's, unicorns, and way cool headphones and of course, Taylor Swift Albums".
Santa Clarke has brought holiday cheer to Jesuit High School for the past 5 years and will continue his involvement for the many years to come, so long as students keep up their holiday spirits.