Live Theater During the Pandemic: Jesuit Presents Godspell!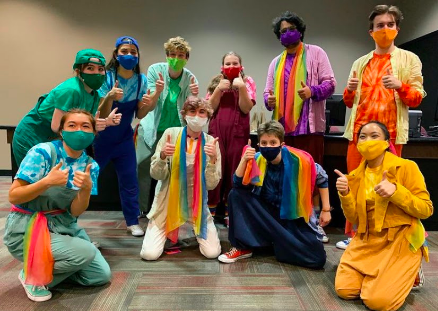 It's not easy producing live theater in the age of social distancing, but drama directors Jeff Hall and Elaine Kloser have been working hard with students to put on a production of "Godspell" in a new digital format. 
The show was made up of a cast of about 34 actors, ten students performed live onstage and the rest performed on the screen through a variety of projections and special effects. In this new format, new opportunities, as well challenges presented themselves.
"It's been really fun to get creative in a way that we haven't before when [trying] to figure out how we can create a show and bring a larger group of people together in a time when we can't all be in person," said junior Ava Maloco. "I think it's pretty exciting when everything is a little up in the air and you're not sure exactly how things are going to turn out." 
Behind the scenes was a tech crew of 40 students who had been working tirelessly to ensure a smooth run.
"The tech crew has been preparing for Godspell by setting up not only what we normally use for a show, like lights, microphones, but we've also been creating a huge amount of video projections featuring the ensembles, in addition to all the equipment needed to stream Godspell to everyone watching from home," said senior tech crew member Luke Motschenbacher. "During the actual performances, the tech crew will be running lights, projections, microphones and sound effects, the cameras, and much more."
The show follows a bit of an unconventional plot line, illustrating the story of Jesus' life through parables, songs, and dancing. The message of the show, however, is really up to your own interpretation.
"The show basically follows Jesus's life, but I'd say that in a more abstract way the show is just about teaching valuable lessons, especially about community, in a more entertaining way," said Ava Maloco. 
Many of the virtual ensemble and principal cast members agree that Godspell is centered around a common theme of community.
"It's pretty difficult to really understand what Godspell is about. I know many people think it's a huge Christian and religious show, but I disagree," said junior James Miller, who played Jesus. "Godspell tells a very simple but important story: a group of strangers being united through song, celebration, and, most importantly love."
The show premiered on Friday, Dec. 4, with two more performances that followed Saturday and Sunday. Over 900 viewers streamed the show online, as well as a small live audience of family members who were able to watch the show live. 
"I think livestreaming the show really opened more doors than it closed," said junior Kate Goddard. "My grandparents live in Ireland, so if we were to do the show [in person] they wouldn't have been able to see it. But even with the eight hour time difference they were able to see me and they said it was the highlight of their long year in isolation."
Godspell is an incredibly touching story, and although the original show has been performed at Jesuit before in 1970 and 1995, it remains a show that reflects an important message relevant to the modern age.
"I think [Godspell] also relates to the times we are living in right now. There is a song called "Beautiful City" near the end of the show before Jesus is killed, and the lyrics mention how we can slowly start to recover and [that] things may not get better right away, but they will eventually," said junior Theron Abel. "This is such an important message for us right now, living in these tough times, and we have to realize that things will get better."
About the Writer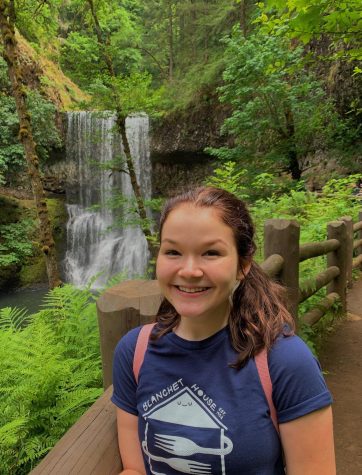 Chase Kerman, Junior Executive Editor
Chase Kerman, a Junior at Jesuit High School, is excited to explore Journalism and grow as a writer in her first year taking the class. At Jesuit, Chase...
Fay Lustria Verbally Commits to Swim at UCLA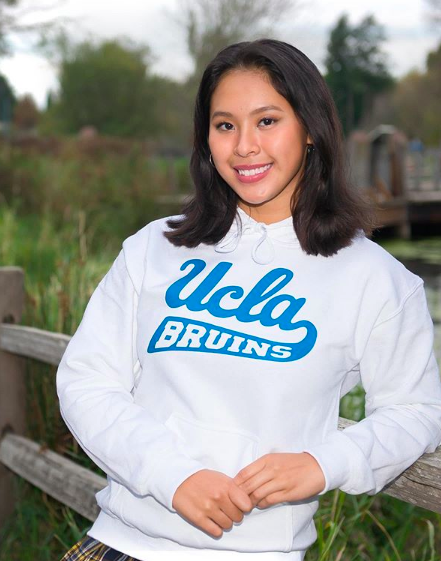 This week, I had the opportunity to interview junior Fay Lustria, a talented swimmer who recently announced her verbal commitment to UCLA via social media. Although she has a few years before she begins attending the university, she is excited for this new journey to start. 
Kerman: How long have you been swimming?
Lustria: I started when I was six years-old. It's crazy to think that I've been practicing in pools for a whole decade!
Kerman: Where do you swim, or what club do you swim for? And how often are you swimming nowadays?
Lustria: I swim at THPRD for Tualatin Hills Swim Club. My current practice schedule is very hectic since I practice all seven days of the week and swimming is a year round sport too! Everyday after school, I swim for two hours and then lift weights for another hour. On Mondays, Tuesdays, and Thursdays, I swim before school from 5-7 AM, and then again after school for another two hours. I spend about 3-5 hours per day at the swimming pool.
Kerman: Obviously there's a ton of sports out there, and swimming is one of the more unique choices…what do you like most about swimming?
Lustria:  Growing up, my parents always wanted me to stay active, so they enrolled me in a variety of different sports, but I never liked [any of] them as much as I enjoyed swimming. I've always loved the feeling of being underwater. My favorite part about swimming is the combination of a docile and competitive atmosphere it creates. Sometimes I view swimming as a respite from my busy life, and sometimes I see it as a challenge that motivates me to work as hard as possible.
Kerman: How did you commit to UCLA? How did they approach you?
Lustria: Getting recruited is definitely a wild process. Immediately following my sophomore year, I was contacted by many Division 1 schools. I [went] on weekly calls with each one to interview their coaches and swimmers about the different aspects of their college. UCLA's head coach, Jordan Wolfrum, reached out to me and offered many reasons as to why I should attend UCLA. The first one [was] that they have one of the best collegiate swimming programs in the country. Second, they have outstanding academics and an amazing computer science program, which I've decided to major in. Third, the team culture is filled with so much uplifting energy and positivity. But the most important reason of all is that their athletes receive gourmet meals, and I LOVE good food! Her description of UCLA convinced me that it was a place where I could really thrive, and I'm thrilled I get to spend four years at such a prestigious school!
Kerman: How are you feeling about committing to UCLA? Excited? Nervous? Relieved?
Lustria: All of the above! After spending several months trying to come to a final decision, I'm relieved that I don't have to deal with copious amounts of stress anymore. I am a bit nervous about going into a completely foreign environment, all by myself, with unknown people and places, but overall I'm mostly excited to attend UCLA because it's a brand new experience!
Kerman: What are you most excited about?
Lustria: I'm most excited to see how I develop as a swimmer. UCLA has every possible resource an athlete could ever desire. Their various weight trainers, nutritionists, physical therapists, sports psychologists, etc. will all have an impact on my performance, and I can't wait to see how it can push me to my highest potential!
About the Writer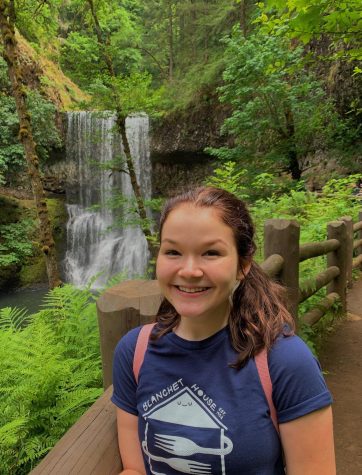 Chase Kerman, Junior Executive Editor
Chase Kerman, a Junior at Jesuit High School, is excited to explore Journalism and grow as a writer in her first year taking the class. At Jesuit, Chase...
How Does Voter Suppression Impact Americans?
As the 2020 Presidential Election between candidates Joe Biden and Donald Trump grows closer, it seems as though every day there's a new story about how voter suppression could impact the results of the election.
Throughout the last decade, states across the country have implemented voter restrictions that intentionally suppress voters of certain marginalized groups. There are various types of voter suppression: 
Voter I.D laws, which require voters to present a government-issued I.D. to vote and leave no meaningful fallback options for those with no I.D.

Polling location closures, when voters are not notified or aware that their local polling place was closed or relocated.

Voter purges,

an often-flawed process of cleaning up voter rolls when someone becomes deceased or moves by deleting names from registration lists (Brennancenter.org)

Voter registration restrictions, such as strict photo identification requirements and early voting cutbacks.
One of the most well-known instances of voter suppression was in 2017, when Georgia enacted an "exact name" law that required voters' names on their registration documents to exactly match the names on their forms of I.D.
"I have an apostrophe in my name, but in some computer systems it doesn't take the apostrophe…So if I were to have my registration with an apostrophe but my driver's license without an apostrophe, that could mean I'm disenfranchised," junior Michael O'Rourke said. "I'm overhearing that for people in the Asian community with hyphenated names, this can be a much bigger problem [for them] than for someone with a name like John Smith."
Voter suppression efforts in the U.S. have a history of targeting members of racial minorities. Following the election of first Black President, Barack Obama, twenty states implemented new restrictions on the right to vote, as well as closing polling places in predominantly Black and Latinx communities (publicintegrity.org).
 "[Voter suppression] consistently seems to be directed more towards minorities," junior Astrid Foster said.
A recent order from Texas Gov. Greg Abbott, stating that Texas counties may collect mail-in ballots at one location per county, caught the attention of the media. Some argue that this mandate disproportionately restricts lower-income voters, older voters, voters of color and voters with disabilities (Texas Tribune). 
"The counties in Texas vary from rural, sparsely populated counties to cities like Houston with millions of [residents] and giving both counties one dropbox is a huge disparity, and just unfair for the people to have to bypass millions of other voters to get their early vote in," said Michael O' Rourke.
Other instances of voter suppression have appeared in the weeks leading up to the election, including a cut cable causing the entire Virginia voter registration system to go down on the last day to register to vote (WUSA9), fraudulent ballot boxes placed by government officials around the state of California (New York Times) and nearly 100,000 invalid absentee ballots, with wrong names or addresses, sent to New York voters (New York Times).
Both Republicans and Democrats emphasize that the full participation of its citizens is imperative to the success of a democracy (Americanprogress.org), but with so many Americans subject to voter suppression, this can be difficult to achieve.
"I personally believe that we can't have a successful democracy unless every person's vote is taken into consideration, and if everyone is not given the opportunity to express their voice, then it's not really a democracy," Astrid Foster said.
About the Writer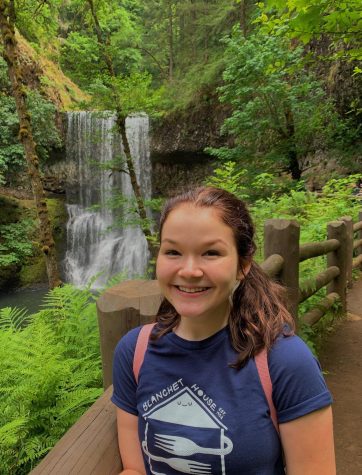 Chase Kerman, Junior Executive Editor
Chase Kerman, a Junior at Jesuit High School, is excited to explore Journalism and grow as a writer in her first year taking the class. At Jesuit, Chase...
Female Politicians: Battling Double Standards as well as an Opponent
It's been a groundbreaking couple of years for women in politics, with more gender diversity in government than ever before. According to the Center for American Women in Politics at Rutgers University, the year 2018 showed the largest increase in female representation among state governments (BBC). 
As the 2020 Presidential Election grows closer every day, voters have a chance to elect the first female vice president of the U.S: Kamala Harris. But is Kamala Harris up against something more than her opponents? Many have argued that women in politics, much like women in every field of study, are subject to an implicit bias that has long impacted our expectations of what a leader can be. 
An implicit bias is at work when someone tends to hold a preference towards a certain group of people, holds a specific attitude, or associates stereotypes to a group without conscious knowledge of their actions (Perception Institute).
Women in politics are often the subject of offensive, misogynistic remarks, as they are attacked by both the public and their political opponent. Last March, a hostile interaction between Rep. Ted Yoho, R-Fla., and Rep. Alexandria Ocasio-Cortez , D-N.Y. made headlines when Yoho was heard insulting Ocasio-Cortez, going as far to call her "crazy", "disgusting" and a "f—ing b-tch" (MSNBC).
Although these jarring words may seem shocking at first, there is a long history of men flinging insults at their women colleagues regarding their appearance, their ambition, their opinions or other subjective factors. As women are constantly criticized for these characteristics, their accomplishments and merits are overshadowed and appear less important.
Derogatory language towards women in politics has provided a long history of unfair coverage, double standards, and bias that has limited women, women of color in particular, from positions of power and authority. The same cannot be said for male politicians.
 In a research conducted by TIMES UP, a movement against sexual harassment and was founded in response to the #MeToo movement, the Vice Presidential coverage was analyzed between Kamala Harris, her opponent Mike Pence, and 2016 Vice Presidential Candidate Tim Kaine. The data showed that the white male candidates' qualifications remained unquestioned, while Harris was constantly criticized for her likability, her ambition, and other opinionated commentary (NowThisNews).
It's time to treat women in politics with the same respect and dignity that they deserve, and that their male counterparts receive. As Americans continue the fight towards equality, it's time to stop reporting on what a female politician is wearing, and start focusing on what qualifies her as a great leader for the American people.
About the Writer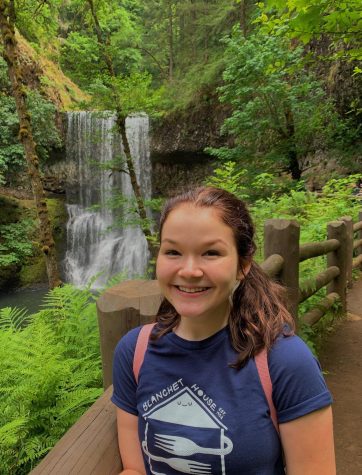 Chase Kerman, Junior Executive Editor
Chase Kerman, a Junior at Jesuit High School, is excited to explore Journalism and grow as a writer in her first year taking the class. At Jesuit, Chase...
Trunk Or Treat!: Halloween Drive Through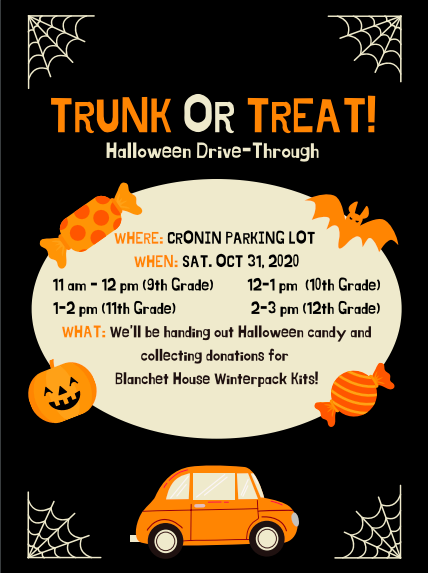 This Halloween, student government is helping Jesuit students get into the spooky spirit with the first ever Trunk Or Treat!: Halloween Drive Through event. The event will run from 11 a.m. to 3 p.m. on October 31st with separate time slots for each grade level, and take place in the Cronin parking lot on campus. Freshmen and Edison students can participate from 11-12 p.m., Sophomores and Edison students from 12-1 p.m., Juniors from 1-2 p.m., and Seniors can arrive anytime from 2-3 p.m. 
At this event, students will have a chance to drive through festive Halloween decorations and get some candy from student government members along with a few teachers. Students will also have an option to donate to the Blanchet House Winterpack Kits Drive as they drive past a designated donation station. At the end of the drive, students will have a socially distanced photo opportunity.
Members of student government will be visiting campus in small cohorts this week to begin preparing for the event, setting up decorations in the Cronin lot as well as bagging up candy to safely deliver to students.
 Because large gatherings and many Halloween festivities are limited due to the COVID-19 pandemic, student government has organized this event to hopefully help bring a sense of community to the students during this holiday. 
About the Writer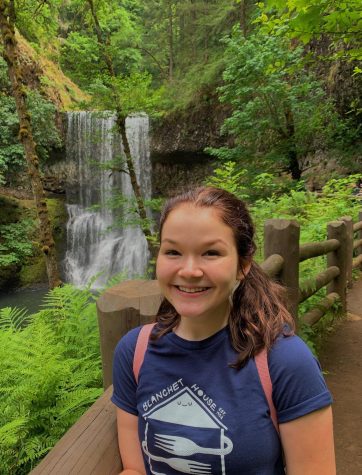 Chase Kerman, Junior Executive Editor
Chase Kerman, a Junior at Jesuit High School, is excited to explore Journalism and grow as a writer in her first year taking the class. At Jesuit, Chase...
Ruth Bader Ginsburg, Champion of Women
Ruth Bader Ginsburg, an American lawyer, jurist and associate justice of the U.S. Supreme Court died September 18th as a result of implications of metastatic pancreatic cancer. She was 87 years old.
    "It's one of those deaths where you know [that] when you talk to your kids, you're gonna tell them 'Oh, I remember when that person died, I was in high school,'" junior Vanessa Auth said. "It's one of those events you're always going to remember."
    Justice Ginsburg began a career in law as one of nine female students in her class at Harvard Law, later transferring to Columbia University Law School where she graduated at the top of her class. 
Justice Ginsburg was known to many as a champion of women, making her mark in American politics as the second female justice to serve on the Supreme Court. She was an outspoken advocate for women's rights and spent much of her career fighting for gender equality, arguing six gender discrimination cases before a male dominated Supreme Court and winning five of them.
"She's done so much great work for a lot of people, but especially for women's rights," French teacher Ms. Schmidt said. "She's done some really amazing and radical work over her career, so I think it's a pretty big loss for our country."
The legal legacy of Ruth Bader Ginsburg can be traced back to her work as the founder and leader of the ACLU's Women's Rights Project in 1972, which took part in almost 300 gender discrimination cases nationwide.
    "She obviously went through a lot, and went against some really tough [opponents] that people didn't think she should," junior Hannah Noguchi said. "And I think that is very inspirational." 
    Following her death, many Jesuit students spoke out on social media to share how Justice Ginsburg had inspired them.
    "She was the embodiment of strength to me," junior Sophie Schmidt said. "Just because of everything she fought for and all the adversity she faced to get where she was."
    Justice Ginsburg's impact can be seen throughout many aspects of modern American life, specifically rulings related to equity, gender and women's rights. 
    "No matter what side of the aisle you were on, you knew that RBG was someone who fought for the rights of Americans and wasn't going to back down," junior Vanessa Auth said. 
    With the departure of a Supreme Court Justice, Republican senators are taking this opportunity to appoint a new justice, signaling plans to begin a confirmation process before November's Presidential election. Judiciary Chairman Lindsey Graham has begun to outline how the committee will handle this nomination, and has said that the committee plans to hold three days of hearing for the Supreme Court nominee in October. With only 29 days until the election, this may be the quickest confirmation in history.
About the Writer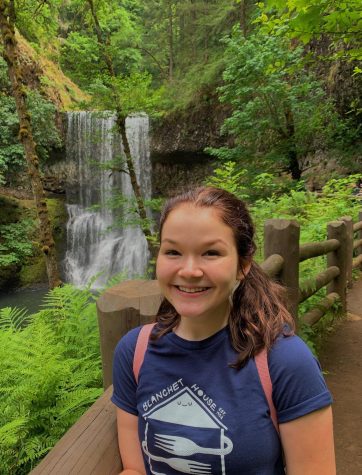 Chase Kerman, Junior Executive Editor
Chase Kerman, a Junior at Jesuit High School, is excited to explore Journalism and grow as a writer in her first year taking the class. At Jesuit, Chase...
Jack Ensminger: Bringing Students Together in a Time of Distance
As Jesuit High School embarks on their first semester in a fully virtual school setting, senior Jack Ensminger is taking on the difficult task of representing the Jesuit student body as ASB President… without actually being at Jesuit.
Jack Ensminger, who has been enthusiastically involved in track, mock trial and CCA, was elected ASB President for the 2020-21 school year back in May.
    "[Jack] is very personable," said senior Ellen Haney, who has worked with Jack in student government for three years. "He's very enthusiastic about wanting to help the students." 
    Jack has been a devoted member of Jesuit's student government, led by Dr. Exley, for the last three years.
    "Jack does a good job speaking up for the students in a way that can get his voice across, but also be respectful of faculty and staff," said Dr. Exley. "That's something I really respect about him."
    An ASB President is normally responsible for representing the voices of both the staff and the students of Jesuit High School, as well as presenting to a diverse population of students with different interests, hobbies, backgrounds, etc. As Jesuit transitions to an online format, the normal responsibilities of an ASB President begin to shift.
"A big part of [Jack's] job is showing students how they can 'buy in' to a virtual community, and how they can 'buy in' to what we're trying to get done here at Jesuit," said Dr. Exley. "When a leader buys in, that gives other people the permission to buy in."
Although Jack expressed feelings of nervousness at the prospect of representing a virtual community, he is looking forward to new opportunities that the online format may present.
"This year is really different, so I'm excited to see how we can push ourselves as a community to try new things and go to fun new events." said Jack.
    At a time when things seem more distant than ever, Jack Ensminger is looking for ways to bring the Jesuit community together. In Jack's original platform for ASB Elections, he stated that he "hopes to make Jesuit a place where people are excited to go to school every day!", which may prove challenging in a time where a students' day consists of multiple 80-minute Zoom meetings.
    "Being online makes being excited about going to school a lot harder," said Jack. "I think by making class manageable and getting kids excited about learning, we can make school more manageable and fun." 
As a student, Jack understands the struggle of online learning and zoom fatigue, but he hopes that he can find ways to help students "buy in" to the Jesuit community and make the most of their school year.
"Although I know it's hard, try to put yourself out there and have an open mind," said Jack. "Little things do matter, like talking in breakout rooms or joining a call. Try to push yourself!"
An excellent representative of Jesuit High School, Jack's leadership will be demonstrated throughout the school year as he works on uniting the Jesuit community, even in unexpected circumstances.
About the Writer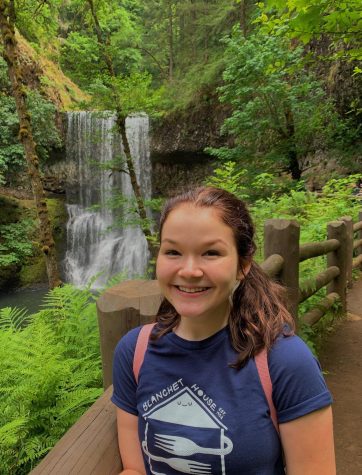 Chase Kerman, Junior Executive Editor
Chase Kerman, a Junior at Jesuit High School, is excited to explore Journalism and grow as a writer in her first year taking the class. At Jesuit, Chase...