Part 3: Roadtrips
For senior Emily O'Connor, she understands that traveling may be a necessity for some people and that some forms of travel are more acceptable than others, but, nevertheless, advises against it. 
"I think road trips are good because there's a lot less contact," O'connor said. "Some people need to travel, which is fine, but during the high frequency times on all of the breaks and stuff, I wouldn't travel." 
The CDC states that during car travel, getting gas, food, or stopping for bathroom breaks causes individuals to get into "close contact with others and frequently touched surfaces," so they recommend the following tips to stay safe during road trips:
Bring disinfecting wipes

Bring hand sanitizer with at least 60% alcohol content

Wash hands for at least 20 seconds after using the restroom or touching shared surfaces
Part 6: Feature on a Family's Decision to Fly
Unlike O'Connor who will be spending her Christmas at home, junior Lucy Langer and her mother Nikki Langer plan to travel over Christmas break to Arizona for six days via airplane. For the Langer family, their trip to Arizona is a necessity due to the deprivation of family connection.
"We're flying just because we have driven before and it takes a long time, so we can get there quickly," Lucy Langer said. "My family over there is comfortable with seeing us, so that's why we are going."
"That is where my entire family lives, and I haven't seen them for over a year," Nikki Langer said. "And my sister had a baby…and we haven't seen her yet, so we are excited to see her, and my parents are older so we want to spend some time with them."
When questioned about the precautions they will take on the plane, they both ensured that they and the rest of their family would be following standard CDC guidelines.
"We will take all of the normal precautions that are required," Nikki Langer said. "We will wear a mask the entire time, and I always bring hand sanitizer with us, and we will wipe everything off when we get there."
However, the Langer family is not abiding by the CDC's recommendation to quarantine 14 days before and after traveling. Rather, they are considering taking Covid tests to compensate for not quarantining. 
"We are not quarantining," Lucy Langer said. "We will see some people, but it's not like we are going to be in a huge group. We are doing what we have been normally doing. We have been traveling, so we might get Covid tests before we go because we are visiting our family."
"We are traveling in January to Hawaii and it's required to take a Covid test, so we will be doing that," Nikki Langer said. "With Arizona, we don't know [if we will get Covid tests] yet, and the biggest reason is that the research that I found is, if you don't have symptoms, it costs quite a bit [to take a Covid test]. It's over $100 per person. It's only a snapshot of where you are at that moment, but we haven't talked in detail about if we are going to."
According to Dr. Kristina Angelo, a certified epidemiologist for CDC's Traveler's Health Branch, there are "a lot of states that have requirements and restrictions now for people coming in and mask requirements and some states are requiring quarantines," so she advises people to check before traveling. 
Nikki Langer particularly emphasized her and her family's knowledge of the Covid scene in Arizona, saying that she "talk[s] to them all the time, so [she] knows what's happening over there."
So the question that families need to answer before traveling are: Does the need to travel outweigh the risk? If so, in what ways can you keep your family safe?
Part 5: Airline Safety Measures
While all of the previous professionals' concerns are valid, airports and many airline companies have enhanced their procedures and progressed their protocols to accommodate Covid regulations. 
American airlines has added the following safety measures to increase their passengers and workers' protection:
Amplified cleaning 

Hand sanitizing stations

Less ticket counters

Creating space for individuals to socially distance

Requiring proper face coverings

Plexiglass shields in front of ticket counters

Checking in through touchless devices
The mechanics and inner workings of an aircraft itself are carefully regulated.
"Most viruses and other germs do not spread easily on flights because of how air is circulated and filtered on airplanes," CDC said.
Part 4: Concerns Over Air Travel
Despite not choosing to travel over Christmas break, O'Connor flew on a plane in the early fall to visit a college, adhering to her statement that some travel is necessary. In her case, it was to make a final decision on where she would attend school for the next four years. O'Connor spoke of the many precautions she and her family took on the plane as well as her comfort level throughout the journey. 
"My parents bought little goggles, and they gave me wipes so that I could wipe down everything," O'Connor said. "I obviously wore a mask, and I didn't eat anything because I didn't want to take off my mask. It was one-way. The plane was almost completely empty, so I felt safe. On the way back, it was a little bit crowded."
For Pediatrician Dr. David Rubin, the director of PolicyLab, a research and public policy center at Children's Hospital of Philadelphia that is monitoring COVID-19 cases nationwide, thinks that air travel is troublesome, and, like O'Connor, supports of car travel.
"I almost think that cars are safer for those who are traveling, because it's just you and whoever you're traveling with," Rubin said. "At least you don't have the situation of a packed airplane where there might be several COVID-19 positive individuals on the plane."
O'Connor and Rubin's concerns are based on the premise that the longer an individual is around others who may be infected with or carry COVID-19, the higher chances they have of getting the virus.
According to CNN Travel, Erin Bromage, a comparative immunologist and professor of biology at the University of Massachusetts Dartmouth, the chances of an individual catching COVID-19 can be modeled in a mathematical equation.
"Successful infection= exposure to virus times time," a CNN commentator said.
Similar to Rubin and Bromage's rationale, CDC director Dr. Robert Redfield views air travel as the catalyst of the second wave of COVID-19, labeling it a "silent pandemic" because of the possible asymptomatic carriers that may be on board.
Part 1: How Covid Has Shaped Our New Reality
With Christmas break around the corner, families are eager to start vacationing. However, according to the Centers for Disease Control and Prevention, Covid cases are rising at an alarming rate, with the total number of deaths in the United States at 302,992 and counting. In light of this information, families are faced with the dilemma to either stay home for the holidays or safely continue their initial travel plans. 
"3 months ago, COVID-19 was not even in the top 75 causes of death in this country. Much of the last month, it was the #1 cause of death in this country. This is more remarkable than the 1918 Flu pandemic," according to Michael Osterholm, expert in infectious disease epidemiology.
Due to the gravity of COVID-19, for the past ten months people have had to adjust to a life of face masks, hand sanitizing, social distancing, and Covid testing for the sake of protecting themselves and others from getting infected by the virus. These procedures have since been normalized, forcing many to adapt to this new reality in their personal, academic, and work lives. Despite the universal understanding that physical health is paramount, there is plenty of dissension around what is considered "safe" for one's physical health in regards to traveling. 
Part 2: Advise from the CDC
The CDC says that "travel can increase your chance of spreading and getting COVID-19" so "postponing travel and staying home is the best way to protect yourself and others from COVID-19." The CDC especially emphasizes the unpredictability of asymptomatic individuals—people who do not show symptoms of COVID-19 but are carriers of the virus. 
While the CDC recommends staying at home and following quarantine protocol, they offer advice on how to travel safely for those that believe it is a necessity. 
Check travel restrictions in your destination

Get your flu shot before traveling

Bring masks and hand sanitizers

Do not follow through with travel plans if your travel buddies are sick

Wear a proper face covering in public settings that covers both the nose and mouth

Abide by social distancing regulations (six feet apart) to reduce close contact with others

Try to not touch your eyes, nose or mouth

Do not maintain eye contact with a sick person in close proximity as a common way to become infected is through virus particles entering one's eyes
The CDC also recommends that people consider the following questions before traveling. If the answer to any of the questions is yes, they advise the individual to think critically on if the need to travel outweighs the risk.
Ask yourself if you are planning on seeing anyone in the "high-risk" groups. If a member of your family or someone you are visiting is considered "at-risk," you should also consider yourself "at-risk" so that you can take the extra necessary precautions to protect the high-risk individual.

Are the cases rising where you will be traveling? 

Are the hospitals overwhelmed in your community or where you are traveling to?

 Does your community or destination have "requirements or restrictions for travelers"?

Have you, your family, or people you are traveling with been in close contact with people 14 days before the vacation or plan of travel?

Are you able to maintain six feet distance on your form of transportation?

Are you traveling with people outside of your immediate family?
For some individuals, following CDC guidelines is enough protection against the virus no matter the setting one is in. For others, CDC guidelines need to be upheld to the highest standard with traveling being the biggest transgression
An Interview with Mr. Clarke on Santa Clarke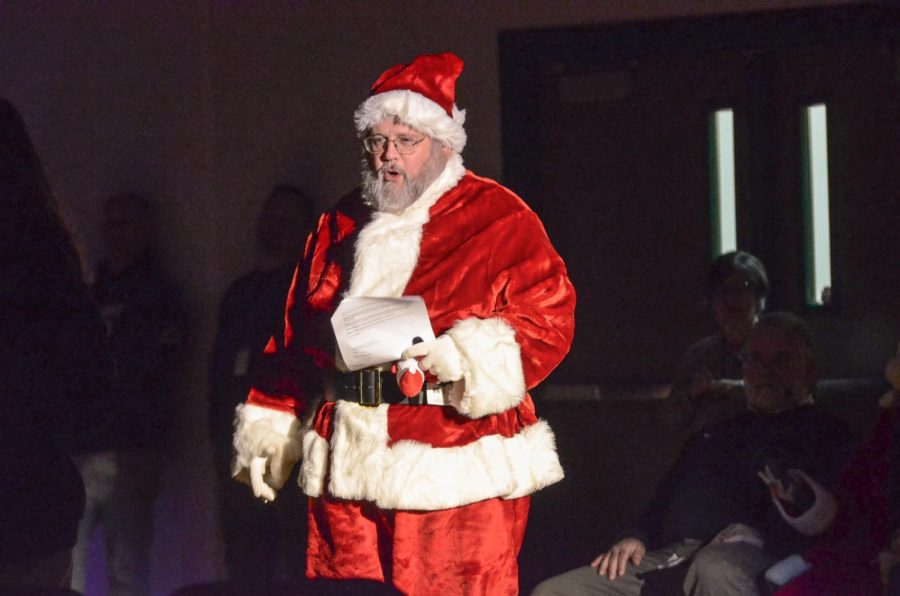 In light of the beginning of the Food Drive and holiday season, I had the opportunity to talk with Campus Minister Don Clarke on Jesuit High School's favorite holiday figure, Santa Clarke. Although the Jesuit student body will not be able to experience Santa Clarke's joyous presence in person through the traditional Food Drive assembly, Clarke speaks on how his close friend, Santa Clarke, will continue spreading the spirit of giving and love this December.
Crespo: What is Santa Clarke's daily routine?
Clarke: Everyday he gets up, comes out his hair and his beard, practices his "ho, ho, ho's" for a while, then he practices carrying a bag around and works on going down chimneys. He checks in with toys being made, and then looks in on different people as they are collecting food for the Food Drive.
Crespo: How is Santa Clarke going to spread the holiday spirit to the student body this December despite not being able to see them in person?
Clarke: I hope we get to see the student body on Dec. 12 when it's the drive-by for the Christmas lights. I think Santa Clarke will be there. I talk to him regularly, everyday. I heard that he was on the video for the Food Drive assembly. He also does a couple of other things. He helps with a couple of different parishes around the area and different groups that need a Santa Claus, so he shows up there as well. His most favorite thing is seeing the students. I think when he broke into the Knight Center [in the assembly video] and there were no students there, that was very, very disheartening for Santa Clarke.
Crespo: What does Santa Clarke love about the holiday season? 
Clarke: [He] loves the generosity of people. I think it just kinda goes in the back of their brain like, "I gotta do the Food Drive stuff, I gotta do the food drive stuff," and then when they finally bring in stuff…they see what the whole community can do. The smiles are usually a little bit deeper than usual when people see what happens when the Food Drive shows up.
Crespo: What are your thoughts on Dr. Fauci's statement that Santa Clarke is immune to the Coronavirus?
Clarke: I think that it is pretty self-evident that he is immune to the coronavirus and therefore can go to all different kinds of places. But as you saw in the video, Santa Clarke has his own specially designed face mask by Mrs. Claus that is candy cane-ish and everything. He won't catch it because he will wear a face mask all the time and after every house, he cleans his hands and makes sure everything is all antiseptic. I appreciate that Dr. Fauci said that you don't have to worry about Santa Clarke this year.
Crespo: What is your favorite type of Christmas cookie?
Clarke: There is a former principal, her name is Mrs. Satterberg, and she heard one time that I like shortbread cookies, so every year, even after she retired, she still makes me shortbread cookies. So it would be Mrs. Satterberg's shortbread cookies that are my favorite Christmas cookies. (Mr. Clarke speaks for Santa Clarke in this regard too, obviously.)
Crespo: What spirited and uplifting message do you want to send to the student body during the holidays?
Clarke: There are so many different things that talk about what the real meaning of Christmas is, and I will say that up at the North pole [Santa Clarke] watches Hallmark Christmas movies. They always talk about Christmas as love, and I think the greatest love that we as humanity have been able to experience, is the gift of God's presence in the world, certainly, through the presence of Jesus Christ, but through the beliefs of so many faithful [people] that want to be good, and that's faiths of all different kinds. I think that is where the meaning of Christmas is. And I think that if we want to have a Christmas that goes a long time, then we figure out exactly what it means to love and show acts of kindness and to cherish one another. When that happens, Christmas is unbelievable.
Crespo: Thank you so much for meeting with me Mr. Clarke. 
Clarke: Thank you for asking.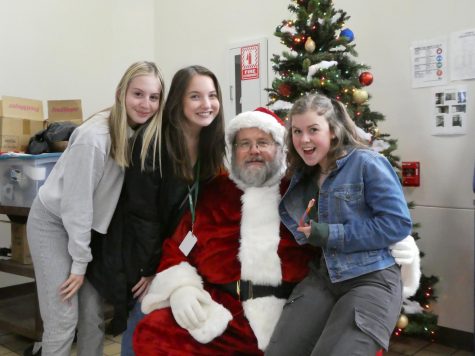 About the Writer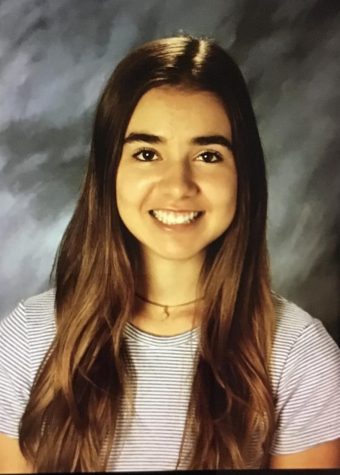 Isabel Crespo, Junior Executive Editor
Isabel Crespo is an editor for the Jesuit Chronicle. She is a Junior at Jesuit High School and is excited to pursue her passion for writing on a deeper...
How Teachers are Re-Designing Learning for an Online Environment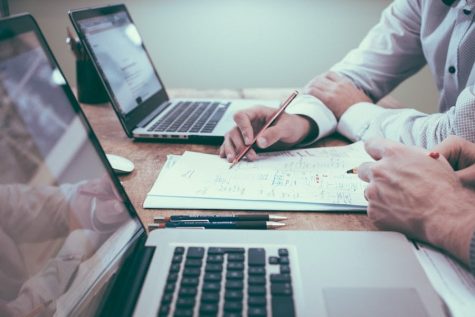 For the past nine months, teachers at Jesuit High School have been challenged with the difficult task of learning how to teach in a virtual fashion. Since digital learning is the new reality for the way education is conducted, teachers have had to redesign their traditional methods of teaching to ones that lend themselves better in an online environment. 
Back in the spring, Jesuit implemented an asynchronous learning model and has since moved away from that approach to a primarily synchronous model in the fall of the 2020-2021 school year. Geoffrey Hunnicutt, a US History teacher at Jesuit, approves of the change, saying that under the asynchronous learning model there was too much inconsistency.
"There was a lot of difficulty and everyone was just doing their own thing," Hunnicutt said. "It was kind of a dynamic period when there was a lot of uncertainty over what to do, and we kept trying to make it better and that was hard to do on the fly because [teachers] had to adapt their curriculum and tests and everything to the new format. Students were having to constantly switch from one platform to another platform."
Laura Schick, a math teacher at Jesuit, agrees that the asynchronous model wasn't sustainable, but stresses the point that no method of learning works for all students because some of her students enjoyed asynchronous learning.
"I know a lot of my students said they [were] actually getting more sleep because they [were] able to work at times where [they] have more energy, they [were] able to work around a schedule that works better with [their] life outside of school," Schick said. "The trade-offs were that until Zoom really became an option, we missed out on a lot of interpersonal connections that we normally would have had. While things were working well, we made some pretty big asks of our students, and it wasn't a perfect learning mode for everybody."
To prepare for synchronous learning in the fall, teachers participated in a robust digital learning training program over the summer taught by fellow Jesuit administrators, teachers, and outside professionals with expertise in the virtual world. For Hunnicutt and Schick, what made the training successful was the teachers instructing each other on how to be more dynamic because it made the learning process all the more interactive and collaborative.  
"One of things that was most useful for me personally was attending something that Jesuit put together," Schick said. "We called it a virtual PD (professional development) conference. That is something Ms. Tormala put together. She had some keynote speakers from outside the school and also had a lot of sessions run from inside the school. I helped lead a session with [Jesuit English teacher] Mr. Villareal on how to use Nearpod and we were able to help other teachers because we had both used it, but we had both used it in completely different ways. We got to share our learning with other teachers and help them, and we also got to learn from other teachers, like I learned how to use Zoom from Mr. Flamoe and got a lot of tips."
"Many teachers, too many to mention, who were skilled at certain aspects of online learning gave classes to the rest of us," Hunnicutt said. "The training over the summer that was most beneficial was auditing Mr. Flamoe's online US History class. He is very skillful in the use of Zoom, Edpuzzles, and other tech wizardry, so I learned much from participating in his class as a student and asking him questions. Lots of questions." 
Due to the extensive training teachers went through in the summer, it is safe to say that many of them are more technologically proficient compared to before digital learning became the norm. For Ms. Schick, she considers herself a tech-savvy individual and uses that to her advantage when teaching, but misses the traditional hands-on activities she used to use in her geometry class on campus.
"I would say that I really love to use technology when it can make our classroom experience better, but I try not to use it just to make the experience flashy," Schick said. "I also will say that this year I really miss out, especially in geometry, doing hands-on labs with shapes. I would say I'm super comfortable with technology and I really like it, but I don't think any of us were prepared for the overload of technology that is happening right now.'
Not only did teachers have to adapt to teaching their curriculum online, but they had to transition from teaching four 55-minute class periods a week to two 80-minute class periods a week.
"What you lose is the cohesion," Hunnicutt said. "You're meeting twice a week instead of four times a week, right, and it's hard to keep students' attention in this format, and I understand that completely. It's very challenging for me and I think it's frustrating for a lot of teachers in this environment, especially if you have taught for a long time and had success and then you are put in a different environment, and it is completely different and you aren't having success, and you can't have success because it takes time to get good."
For junior Karli Lonquist, a student of Ms. Schick, she much prefers learning math four days a week for 55 minutes, but understands that the schedule put in place is what's best for the situation she is in.
"I would definitely say that math is best when you have five classes a week, instead of two 80-minute periods," Lonquist said. "Sometimes in the 80-minute periods I run out of focus and that's hard to regain. Also, I feel like there's the same amount of content but more area for understanding [in the 55-minute schedule].
"When it comes to in-person math education, I really much prefer getting to see my students more times in a week," Schick said. "For example, I was talking to a student and saying, "hey, remember this, it was two lessons  ago" and in a normal week it would be literally two days ago, now it's like a week ago. Especially in math when there is so much skills-based practice. One of things that is better for math education is that daily contact, that daily practice, daily reinforcement, and daily check-ins."
When questioned about the challenges they are facing with digital learning overall, the common trends were a loss of social interaction, communication issues, and especially Zoom fatigue.
"I am a storyteller and doing it over Zoom is very challenging due to the limited feedback from the audience, though my students have been attentive and hardworking," Hunnicutt said.
"I am more than ever relying on hearing from my students and hearing their feedback because as any teacher will tell you, you get really good at sort of assessing, taking in a room and people's responses in a classroom," Schick said. "Like when you're rocking a lesson, everybody's engaged, people are loving it, you can feel it. It's really hard to tell that through a computer screen because the students may be loving it, I just don't know. We are really needing that feedback from our students because we are here for you. It is really hard on zoom to tell what is working well and what is not."
Hunnicutt and Schick have very different lesson plans during their two 80-minute class periods, in part because of the differing subject matter, but also because their personal experimentation throughout their summer training introduced them to different innovative platforms. A common trend, however, is that their classes are a combination of synchronous and asynchronous learning.
"We use a really fun tool called Google Jam Board," Schick said. "It is kind of like google slides but it is shared, and it's a whiteboard. For math it's nice because then one person can write and the others can look at the screen."
"When we are in breakout rooms, we use a lot of the time these things called Jam Boards and each group has a page with warmups on it and they will go through and complete the warmup," Lonquist said. "Everyone is doing something with their group at that time and Ms. Schick will come by, look at everyone's board and make little helpful comments. A lot of the time we will come back, and we will have a discussion about it. It gets everybody engaged and participating at the very beginning of class, which I think is good to kind of wake everybody up."
"I use the whole 80 minutes and it's a combination of Edpuzzles, which are videos that are reading assignments, that breaks [the class] up a little bit," Hunnicutt said.
The remaining obstacle that teachers have yet to tackle in respect to digital learning is final exams. In an email on October 20, Principal Paul Hogan announced the cancellation of an official final exam week in January 2021. Instead, Jesuit students will take their final exams online within the limits of their 80-minute class periods. 
"There will be some written thing," Hunnicutt said. "In the past I have always done a combination of objective multiple choice questions and then an essay, just about 50/50, so I will just do the essay."
When Ms. Schick was questioned about how she will test her students' knowledge at the end of the semester, she said that she is awaiting to make a decision because she is "still learning" about her students and "where their math abilities are."
"One thing I have learned about online learning is that nobody has all of the answers yet, so you have to be willing to learn as you go," Schick said. "My thinking right now is probably a combination of something that asks for them to show me their skills, but also involves some sort of creative synthesis of what they have learned." 
Despite the many challenges online school yields, Ms. Schick managed to find a positive with learning virtually. 
"One nice thing about Zoom is that even people who don't love to unmute and share, can still have a voice and still use the chat function to communicate their ideas," Schick said.
Similar to Schick, Hunnicuttt was able to find some positivity through this entire digital learning experience in an inspiring message.
"As to what works and what does not, I am still learning that," Hunnicutt said. "I am having to follow my own mantra that I tell my students: Don't be afraid to fail because failure is your greatest teacher. I guess I must be learning a great deal."
About the Writer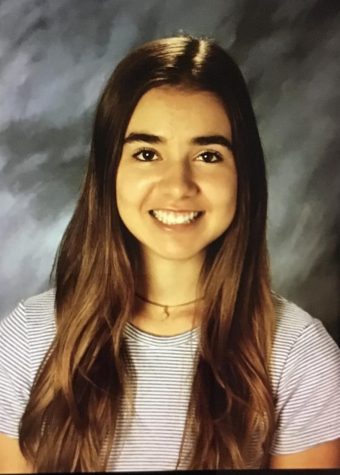 Isabel Crespo, Junior Executive Editor
Isabel Crespo is an editor for the Jesuit Chronicle. She is a Junior at Jesuit High School and is excited to pursue her passion for writing on a deeper...
About the Writer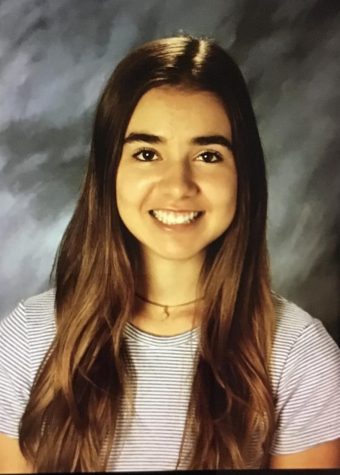 Isabel Crespo, Junior Executive Editor
Isabel Crespo is an editor for the Jesuit Chronicle. She is a Junior at Jesuit High School and is excited to pursue her passion for writing on a deeper...
First Semester Final Exams: Clarifying Cancellation Misconceptions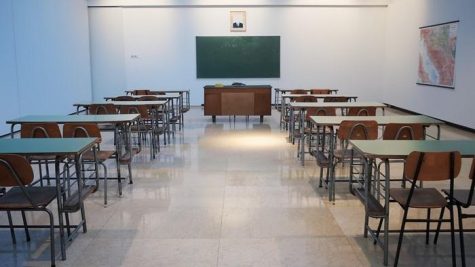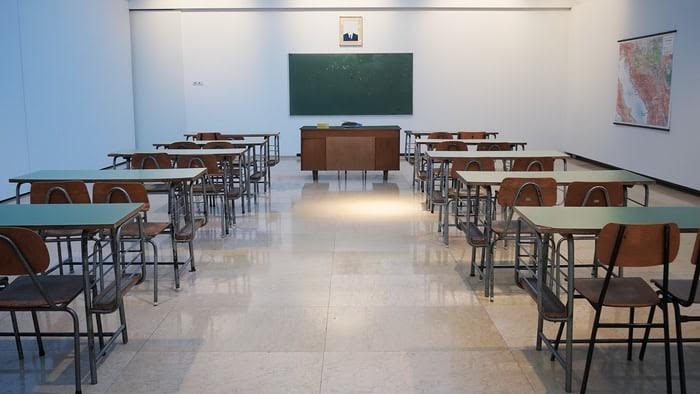 In an email on October 20, Principal Paul Hogan announced the cancellation of an official final exam week in January 2021. Due to COVID-19, it would be difficult to ensure a safe environment for all students and teachers on campus to take and proctor exams. Instead, Jesuit students will take their final exams online within the limits of their 80-minute class periods from either before Christmas Break or between Thursday, January 7 and Friday, January 15. 
Both Mr. Hogan and Emily Hagelgans, vice principal of academics and student life, want to clarify that student knowledge will still be tested, though it will look a little different this semester. 
"Teachers can give a culminating assessment for the semester," Hagelgans said. "We have eliminated our traditional structure of the exam week because all of the classes now are 80 minutes in length, which would lend more flexibility from what our previous structure is to the type of assessment that could be given."
Mr. Hogan wrote that a semester one assessment can take the form of a "research project, oral exam, portfolio, test, paper, video, or other assignment."
When questioned about what led to the consensus on the cancellation of a traditional final exam week, Ms. Hagelgans said it came down to the logistics of the situation and academic integrity.
"We are in communication with a lot of other schools, particularly schools in our province as Jesuit schools, and a number of schools have moved away from a more traditional final exam structure," Hagelgans said. "I think part of it too is exam integrity. You can't really see what a student may or may not be doing so how can we create a more accurate situation of what the student's knowledge is and ability to apply that knowledge?"
The administration asked that teachers' end-of-semester assessments do not have a weight of more than 15% of the students' overall semester grade. 
Ms. Hagelegans believes that this new approach to conducting final exams for semester one "might be really interesting and cool to see because it could lend itself to more creative forms of assessment."
About the Writer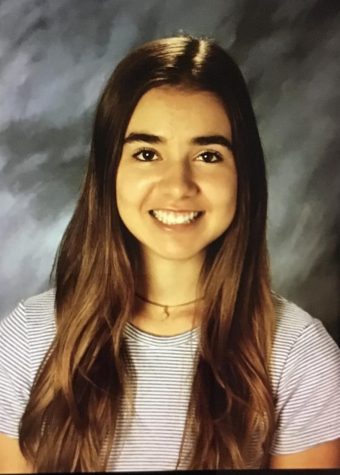 Isabel Crespo, Junior Executive Editor
Isabel Crespo is an editor for the Jesuit Chronicle. She is a Junior at Jesuit High School and is excited to pursue her passion for writing on a deeper...
About the Writer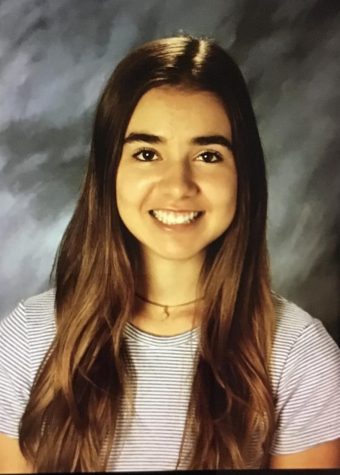 Isabel Crespo, Junior Executive Editor
Isabel Crespo is an editor for the Jesuit Chronicle. She is a Junior at Jesuit High School and is excited to pursue her passion for writing on a deeper...