Khalid Maxie To Become Jesuit High School's Twelfth Principal
In an April 28, 2022 email, Jesuit High School announced that Khalid Maxie, Vice Principal of Academics and Student Life, will become Jesuit's twelfth principal on July 1. Mr. Maxie will continue working for the Jesuit community in his current position until that date.
When questioned about how he feels being selected Jesuit's twelfth principal, Mr. Maxie responded with gratitude and was humble for the opportunity to continue serving the Jesuit community.
"Being named the 12th principal of Jesuit High School is a pretty special thing, so I'm humbled by the honor," Maxie said. "Lot's of talented folks, lots of intellectuals we have here on the campus. I feel blessed to work side by side with many of my colleagues who I know are unbelievably talented and many have given their lives to Jesuit high school. To see that level of dedication is something to behold."
It is because of Mr. Maxie's current position as Vice Principal of Academics and Student Life that he feels prepared to step into his next role as principal of Jesuit High School.
"More than anything, I've gotten to know Jesuit High School," Maxie said. "I know my colleagues, I know how talented they are. I know that if I do a good job listening to them and their needs, it only in turn helps our students.
To find Jesuit's next principal, a national and comprehensive search was conducted by Jesuit's Search Committee in collaboration with a professional consulting firm. Mr. Stewart, Director of Human Resources, and Ms. Tuenge, Vice-President of Communications and Public Affairs, were the co-chairs of the search committee who spearheaded the process alongside Mathew Heersche and Risa Oganesoff Heersche, the Catholic education specialists of the national search firm Educational Directions, with their consultant Melissa Ulum. 
Jesuit received 20 applications from across the country. These applicants displayed "geographic, racial and gender diversity" and, according to President Tom Arndorfer, a commitment to Ignatian education. 
"We were fortunate to get 20 wonderful applications [from] people who were committed to not only Catholic education, but ignatian/Jesuit education," Arndorfer said. "It was really difficult. Our search committee, which did a wonderful job, led by Mr. Stewart and Ms. Tuenge, narrowed down the list to eight candidates. They were all outstanding at what they did and were all worthy of being principals at Jesuit high school or virtually any Jesuit high school across the country."
Mr. Maxie has performed multiple roles for Jesuit High School prior to his appointment as principal. For the last 10 years, he served as Vice Principal of Academics and Student Life and Dean of Students and Security. From 2013-2019, he was also Summer Session Director. He is currently a member of the Board of Trustees' Finance Committee and Diversity, Equity and Inclusion Committee. 
Regarding his past endeavors, Mr. Maxie led the accreditation process involving Jesuit's School Improvement Plan, and he co-led the evaluation process of the Crusader mascot and name.
Mr. Maxie received his bachelor's and master's degree at the University of San Diego, where he also served as an Admissions Counselor from 2001-2005. Before coming to Jesuit High School, Mr. Maxie was a counselor and a coach at Poway High School in California and an Assistant Principal at Wakefield High School in Arlington, Virginia.
For Mr. Arndorfer, Mr. Maxie's experience in education and his commitment to Catholic education made him an ideal candidate.
"His deep experience in a multitude of high schools," Arndorfer said. "His commitment to Catholic education. His deep character. He's a phenomenal man. He's a phenomenal Catholic. I hope you as students look at him as a person with a firm hand and loving touch. He's got a deep heart. We need a leader who brings this community together. A leader that's beloved by students, trusted by parents, and someone who is a trusted colleague of our faculty, and staff. He met all of those criteria."
Mr. Arndorfer also relayed that Mr. Maxie's unique personal life story and journey which taught him how to overcome adversity and seek out a life of faith and personal progress were qualities that the administration admired and respected.
"He's a story of overcoming adversity and challenges, and he has shown incredibly personal faith and commitment to excellence in spite of extraordinary personal circumstances," Arndorfer said. "I deeply admire Mr. Maxie's personal story. I think it creates a man of deep faith, of deep character who can be a wonderful role model for all of us and that's why I think he will be a really unifying figure on our campus moving forward. He is the right individual at this time to lead the Jesuit academic community."
According to Mr. Arndorfer, the significance in having a vice principal become the school's next principal lies in now it affects Jesuit's organizational structure. He strongly believes that a holistic approach to assigning roles and responsibilities is what will make the transition of a new principal efficient and effective.
"I believe you build organizations around the people you have," Arndorfer said. "What we're undertaking now with Mr. Maxie for Mr. Hogan is a whole clean sheet of paper to our organizational structure. We will build it around the people we have and will accentuate what we do well and will make sure we are addressing opportunities for growth with our team as well."
Vice Principal Alyssa Tormala also spoke to the significance of a vice principal becoming Jesuit's next principal. 
"The academic administrative team (principal and vice principals) has been a close-knit, highly collaborative team for years," Tormala said. "As a result, a vice principal moving into a principal role can bring forward an excellent sense of what being a principal at Jesuit means as well as a clear understanding of Jesuit mission and a deep care for the entire community.
In a March 8, 2022 article published in The Jesuit Chronicle, President Arndorfer explained the qualities the administration was looking for in the new principal. 
"We need a unifier who understands our Catholic and Ignatian heritage and charism and quite frankly who loves leading the faculty and staff and who loves being with 14-18 year olds," Arndorfer said. "We need a student-centered leader that fits in a collaborative way who is focused on teamwork, and who is not interested in ever saying that it is all about me because I guarantee you it is never about any of us individually." 
Mr. Maxie stated that he plans to live out Mr. Arndorfer's sentiments through the building of relationships and teamwork.
"The long winded answer of that is through relationships," Maxie said. "I think the best way to get the most out of anyone is to know that I care about them, whether that be one of my colleagues or a student. It has really all been about teamwork. Ideally being able to lean on the gifts and talents whatever they may be. Putting people in a position where they can help achieve whatever goal that may be, not pushing them down a road. It's not a me thing it's a we thing, and I feel comfortable saying that in any setting."
Mr. Maxie especially emphasized that Jesuit is "not a place you go to, but a place you go from" which occurs when the adults follow the "larger mission of working on those harmonious gifts to get…students across the stage."
When questioned about what he hopes to bring to the Jesuit community as principal, Mr. Maxie said he is focused on two primary objectives: bBringing awareness to mental health and improving diversity, equity, and inclusion on campus. 
Concerning diversity, equity, and inclusion, Mr. Maxie highlighted how students need to be open to learning from people of different backgrounds and points of view which can only be done through the sharing of experiences and an increase in representation. 
"One of the things I would like to see happen is a period of getting to know each other in a very intentional way," Maxie said. "How I have explained this recently is the concept of windows and mirrors. Windows to look through, mirrors to see yourself in. And a lot of this is encompassed in diversity, equity, and inclusion, but I always use my story so students get to know me better. For some students, that's a window to look through and for some students that's a mirror. The better job we do at more windows and mirrors, the better we know each other, the more experiences we have."
Mr. Maxie is a counselor by training. Because of his background in counseling, regarding students' struggles with mental health, he believes it is of paramount importance to start "tending to the whole student." 
"Giving students a voice, vocabulary, access to resources, and knowledge of the resources that are available and resources that are not available," Maxie said. "Even sometimes that may include helping the adults recognize things better and that takes professional development and that's a delicate balance because our teachers are spread fairly thin. They are doing an amazing job of preparing students so this is yet another thing that a principal has to figure out how to approach doing that."
In order to execute his objectives as principal, however, Mr. Maxie stated that he needs to deconstruct his current persona.
"One of my biggest hurdles [for me] will be moving beyond the persona that I've had for the past 10 years and stepping into this role to, not completely lose this personna, but move beyond it," Maxie said. "What I mean by the personna that I have is that many people see me as a disciplinarian. I'm very well aware of that. One is like, I've done a whole lot more than that, but I also understand that that's one of the most prominent things that I do. I think that's important for me. There's all these conversations I have with students because I do want them to understand my story or the story beyond that persona."
An aspect of his story he wishes to share with students is that he married into a family of 18 Jesuit High School graduates.
"My wife graduated with Ms. Kuenz, Ms. Steiert, and Ms. Casey," Maxie said. "They all went to school together here. I think those are pretty cool things, and I end up working at my wife's high school, my father-in-law's high school, and my brother-in-law's high school. This place became so important to me and I saw the difference in it right away that I had my nephew come live with me and he graduated in 2016."
In addition to the legacy he married into, Mr. Maxie credits some of his success to the educators in his life who recognized his potential and supported him.
"That's the beauty that we have," Maxie said. "We have the ability as educators, not just a principal, but all of us as adults have an impact everyday sometimes in those small interactions. We have an awful lot of power when it comes to influence and hopefully students specifically will see the humanity in that."
Moving into his new position, Mr. Maxie hopes to provide students with the life changing support he has received and is looking forward to having more everyday interactions with them.
"Being more present at things," Maxie said. "Being able to walk through the lunch room more. Being able to walk through the classrooms more. Like being present and talking to people more. I think that one of the roles as a principal is to be present and accessible."
Mr. Maxie will remain Vice Principal of  Academics and Student Life until he officially assumes the principal position in July, but he has already begun the transition into his new role.
"Our responsibilities are still split up right now because we are still a person down," Maxie said. "But anything that has to do with the class of 2026, I'll be at the forefront of. For the most part, until the end of the year, I still will be taking care of my responsibilities that I always have, [but] many people are looking to me as the next principal and I obviously, willingly, am able to take that on."
Regardless of when Mr. Maxie's title officially changes, Mr. Arndorfer is confident that Maxie will excel in his role as Jesuit's 12th principal.
"All of us play roles," Arndorfer said. "No matter what we do, we are all here to support your experience at Jesuit High School for your four years, [and] we are thrilled that Mr. Maxie is willing to step forward and continue his vocation at Jesuit High School."
About the Contributors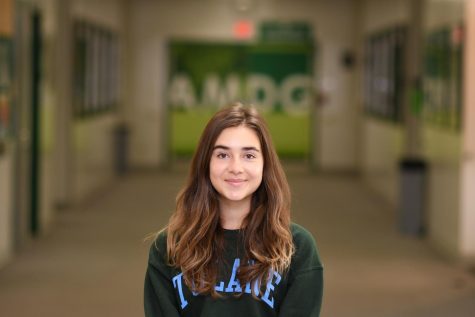 Isabel Crespo, Editor-in-Chief
Isabel Crespo is editor-in-chief for the Jesuit Chronicle. She is a senior at Jesuit High School and is excited to pursue her passion for writing on a deeper level through her second year in Journalism class. In 11th grade, she served as the junior executive editor and podcast manager and covered general news, diversity, technology, features, and opinion pieces. Essentially, for the past year she has extended what began as a simple pastime to a career-oriented goal that she intends to pursue in college and beyond. Her favorite things to write about are ethical issues, fashion, music, education, Gen Z, and advocating for mental health awareness. Some of Isabel's favorite mainstream media platforms are The New York Times, The Washington Post, and Fareed's Global Briefing through CNN. Outside of the classroom, Isabel enjoys competing in tennis, hiking, traveling, and spending time with family and friends. A fun fact about her is that she is half Ecuadorian and a quarter Chilean with experience living abroad for a summer in Ecuador.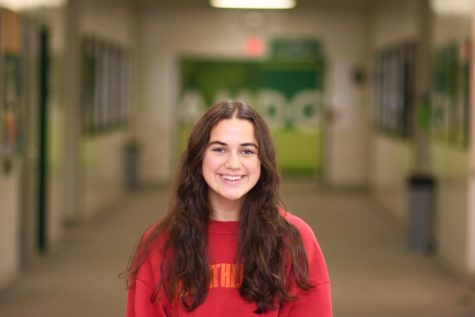 Adriana Bobenrieth, Editor
Embarking on her first year in journalism, Jesuit senior Adriana Bobenrieth is super excited to take Jesuit by storm. As a heavily involved member in all things Jesuit theatre, Adriana is ecstatic to be covering the goings on of the school's drama program this school year. In addition to arts and theatre coverage, Adriana is interested in exploring some of the less talked about aspects of Jesuit student life, and is hoping to connect students by covering their shared experiences. She also hopes to write about topics such as current events, politics, and opinion pieces. Beyond the Moyer stage, you can often find Adriana working her job at a local Portland smoothie shop, paddle boarding, surfing, playing guitar, or trying the latest salt and straw flavors with her friends. A few of Adriana's current favorite salt and straw flavors include Birthday Cake & Blackberries, Maple & Bacon Streusel, and Smile: Words and Pictures. At home, Adriana consumes an ungodly amount of survivor, experiments with new healthy recipes in her kitchen, and loves to play with her labradoodle Dobby. She is stoked to be exploring her passions more deeply and sharing them with others through journalism this year.