Student government organizes first-ever "post-SAT party"
Jesuit Student Government organized their first ever "Post-SAT Party" for all juniors to attend on Tuesday, April 13. The students in attendance helped themselves to catered burritos and lawn games such as volleyball and spikeball.
The Post-SAT Party was open to all juniors, whether they took the SAT or not. Student Government members James Miller and Grace Denny felt that the event was extremely successful.
"I think the Post-SAT party went really well," said Miller. "We hoped to hold an event where the junior class could reconnect and just have fun together, which is exactly what we saw. It was fun to see all our classmates catching up with each other and playing games."
"The Post Sat Party exceeded our expectations," said Denny. "It was amazing to see juniors rekindle relationships and make new ones. It was an event our class needed to reconnect and the weather made it even more enjoyable. The Jesuit cookies were also delicious. It was a great reminder for Student Government that simple events can be the most impactful for students."
Teachers were present as well, wandering around in the sunshine as students spent time together.
"It was a great opportunity for juniors to relax after the SAT," said Activities Director Dr. Exley. "The weather was perfect and it seemed like juniors really appreciated the opportunity to hang out with their friends in a casual environment."
A large portion of the junior class was present, and the event served as a great way for remote students to spend some time with their peers on campus.
"I had a great time at the Post-SAT Party because I felt like it was a fun way to relax with my friends after a tough test," said junior Adriana Bobinrieth. "It was really cool to see people I hadn't seen in a while and the weather was perfect, which made for an all around awesome experience."
About the Contributor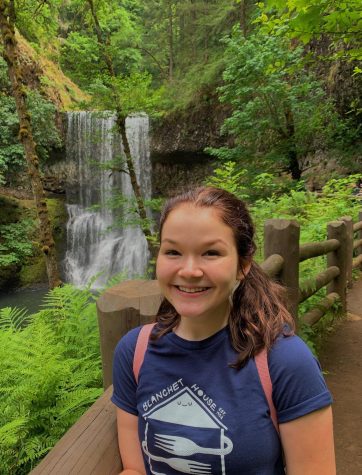 Chase Kerman, Staff Writer
Chase Kerman, a junior at Jesuit High School, is excited to explore Journalism and grow as a writer in her first year taking the class. At Jesuit, Chase is very involved in the drama program, the Jesuit Ambassadors and is also a representative for Student Government. In addition to performing at Jesuit, Chase spends time volunteering as a Student Ambassador at Blanchet House or goofing around at Northwest Children's Theater (her favorite place!) as an actor and member of the Interns NW program. She is very passionate about politics on a national and local level, social justice, and government. Chase hopes to shed some light on more controversial topics at Jesuit, and to inspire her peers to learn about current events because politics are cool!